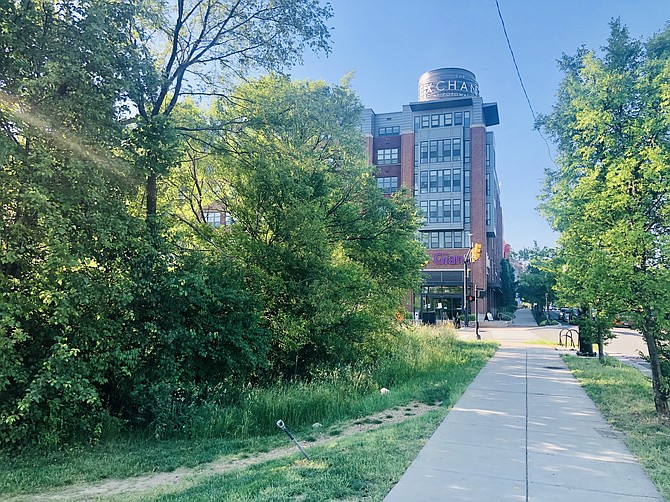 When Alexandria housing officials first considered the idea of putting affordable housing over a new fire station in Potomac Yard, Housing Director Helen McIlvaine joked that her office would eventually become known throughout the region for putting "stuff on top of stuff." That got a laugh, but it also made a splash. The success of the Station at Potomac Yard brought attention to Alexandria as an innovator that was reimagining the kind of places local governments could put affordable housing.
Now, more than a decade later, candidates for the Alexandria City Council are divided about next steps.
Two blocks north of the Station at Potomac Yard is a block that is slated to include affordable housing and a school site. That could be accomplished with two separate buildings, and no co-location would be needed. But what if the school site is an academy of the high school, and a freestanding building wouldn't be needed? City officials are eyeing this block as a potential for co-locating affordable housing and school property in the near future, although candidates in the Democratic primary are divided about that idea.
"If we believe in diversity and we want to maintain our diversity, then we need to look at all options," said Campbell, a former School Board member. "If we cannot maintain various housing options, we will not be able to maintain our diversity. So I absolutely support all of the above options."
Campbell is the most enthusiastic about increasing the availability of affordable housing by using tools like co-locating it on school property or accessory-dwelling units like basement apartments or converted garages. On the other end of the spectrum are former Mayor Allison Silberberg, incumbent City Councilwoman Amy Jackson and candidate Bill Rossello. They oppose co-locating affordable housing on school property and using accessory-dwelling units. During a recent candidates forum, Rossello said if the city needs affordable housing, units should be set aside for existing Alexandria residents.
"I think we need to favor residents and people who have a historical tie to this community," said Rossello. "That's what builds fabric."
ACROSS THE COUNTRY, local governments are increasingly granting preference to local residents and employees for affordable housing set aside. Housing officials at City Hall are currently pursuing a waiver that could allow them to implement a local preference policy in Arlandria without violating the Fair Housing Act, giving preference to neighborhood residents who might be displaced by the Amazon effect. Some have raised concerns about that approach, arguing that it violates the Fair Housing Act because it might have discriminatory racial impacts.
"A local preference policy is a violation of fair housing laws," said Alyia Gaskins. "But what we can do is creative things like in Fairfax County, where they're working on a database to connect those landlords who want to rent with to people who need affordable housing."
Even if Alexandria is able to get a waiver to help residents of Arlandria to benefit from a preference plan, the fact that city officials are required to get a waiver indicates that such a policy would likely run afoul of the law. So a blanket approach giving preference to all affordable housing units to Alexandria residents could run into legal jeopardy. And Rossello's comment about the "safety issues and concerns" about co-locating affordable housing struck some as intolerant.
"It bothers me when the security issue gets brought up because we're not saying the school is going to be on top of the housing or the housing on top of the school," said Councilman Canek Aguirre. "These security issues, that's just a dog whistle."
MOST CANDIDATES in the Democratic primary are trying to strike a middle ground, not quite embracing co-location of affordable housing on school property while also not ruling it out. Mayor Justin Wilson says he would be opposed to co-location on any existing school property, but he would be open to configuring the space in North Potomac Yard to co-locate a high school academy in the same building as affordable housing units. Councilman John Taylor Chapman pointed out that private schools have been co-locating housing on school grounds for many years, and Patrick Moran said other communities have successfully co-located affordable housing and schools. Meronne Teklu and she was not opposed to the idea, Sarah Bagley said she was open to it. Aguirre said it would be irresponsible to rule it out.
"I don't see a problem with co-locating on school grounds, as long as you think about who lives there," said Kevin Harris. "We have teachers who are looking for somewhere to live who are traveling from Prince William County and further out."
Opponents of co-locating affordable housing on school property worry about increasing strain on capacity. Because several schools already have overcrowding issues, they said, adding affordable housing would create unnecessary strain on the school property and resources. Candidates who oppose co-locating affordable housing on school property are Alyia Gaskins, Amy Jackson, James Lewis, Kirk McPike, Bill Rossello and Mark Shiffer.
"We need that land for our students," said James Lewis. "We need to be focused on addressing that capacity issue, not on whether or not we'll put housing at the schools when we still have kids 30 deep in a classroom."