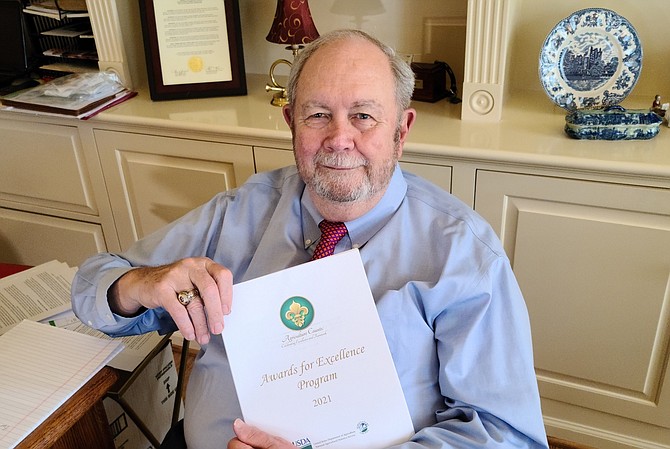 Marshall Dantzler, a Chantilly resident and longtime member of the Centreville-Chantilly Rotary Club, was honored April 21 by the USDA's National Agricultural Statistics Service (NASS). He was one of three former employees inducted into its Hall of Fame, which recognizes those whose work has had a lasting impact on agricultural statistics and the service NASS provides.
Dantzler began his career as a student trainee in the South Carolina field office in 1965 and, except for a two-year stint in the Army, he spent the remainder of his 45-year public-service career with NASS – mainly serving field operations. During that time, he recruited and mentored countless NASS leaders, established the first NASS Regional Data Collection Center and guided 46 state statistical offices through many changes.
Pleased to receive the NASS honor, Dantzler said, "I was most surprised and deeply humbled. My job was all about the people, establishing relationships and mentoring individuals committed to a lifetime career in service to American agriculture."
NASS established the Hall of Fame to recognize former employees whose contributions to the agency and to agricultural statistics transcend time and continue influencing the agency and its staff. These individuals exemplify integrity, honesty and commitment to public service.
"The 2021 Hall of Fame inductees all share a distinguished record of public service during which they helped to shape the agency's operations and improve the quality and reliability of our work," said NASS Administrator Hubert Hamer. "Beyond their talents in the field of statistics, our honorees are also remembered by coworkers as superior leaders and supportive colleagues."
IN DANTZLER'S CASE, they said he knew how to make people feel valued and engaged in their work. He served in the South Carolina, North Carolina, Hawaii and Alabama field offices and in several, key headquarters positions. These included Director of the Census and Survey Division and Deputy Administrator for Field Operations.
In 1997, Dantzler received the USDA Award for Superior Service for "outstanding professional excellence in implementing cost-controlling measures" within NASS. Two years later, he was sworn into the Senior Executive Service.
During his tenure in Field Operations, he led the modernization of field offices and orchestrated the installation of local area networks. He established the first NASS Regional Data Collection Centers and also conceived of and implemented the first Administrative Service Center.
"Everywhere he went, Marshall left a positive image and impression of NASS," said Hamer. "He had an innate ability to bring people together – not tell them what to do but lead them toward a shared vision. Walking in the halls of the South Building, he called everyone by name, remembered your spouse and children's names and had a joke or memory to share."
"Every retirement, award ceremony, or birthday, Marshall always made time and was sure to attend" continued Hamer. "He made a point to recognize the value and contribution of everyone in the organization. To know Marshall was to know NASS."
Dantzler and his wife Joyce, a former FCPS administrator, live in the Poplar Tree Estates community. Her career in education included being principal of Centreville Elementary and serving as GMU's School Partnerships Coordinator until she retired in 2013. And since his retirement at the end of 2010, he's used his time to expand his community involvement.
A longtime, active member of Centreville United Methodist Church, Marshall Dantzler has now been able to volunteer for additional tasks and responsibilities. He was also a charter member of the church's Old Men's Group that focuses on providing individual spiritual growth, networking, fellowship and adventure for its retired and semi-retired members.
A ROTARIAN since 1986, he's held many director and officer positions, served two terms as president and was twice named a Paul Harris Fellow. He's still active in the Rotary Club of Centreville and Chantilly and serves on its Board's Foundation.
Besides all that, added Dantzler, "Retirement also gave me the opportunity to increase my participation in the support of Chantilly High School and CYA sports – activities that had a positive impact on our two sons, Mark and Brian, when they were growing up."