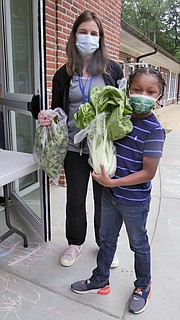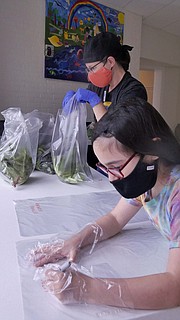 Gardeners gear up for another season of donating produce to support local food pantries. Arlington Friends of Urban Agriculture (FOUA) is supporting the opening of a bagging site at Rock Spring UCC located at 5020 Little Falls Road. Spring vegetables most needed currently include beets, lettuce, spinach, collards, kale, carrots and radishes.
Volunteers sign up for bagging slots Mondays, May-June 1-3 p.m. and Mondays and Thursdays July-October 1-3 p.m. in Carpenter Hall where the local produce is delivered. A short training video is required as well as answering some food safety questions. Last year Rock Spring packaged and delivered 6,826 pounds of fresh produce over the growing season. COVID safety procedures are in place requiring masks, hairnets or hats and social distancing.
In addition to these efforts, produce is accepted on a regular rotating schedule at local food pantries including ALIVE, YMCA, Guest House and Mother of Light Center in Alexandria; Arlington Food Assistance Center, St. Charles Borromeo and Community Church of God in Arlington; New Hope Housing and Dar Al-Hijrah Islamic Center in Falls Church; and SHARE of McLean.
This Plot Against Hunger program is a collaborative effort managed by Friends of Urban Agriculture. In addition to the efforts of local gardeners, it includes Arlington Virginia Cooperative Extension, Marymount University, Master Gardeners, Master Food Volunteers and food pantries.