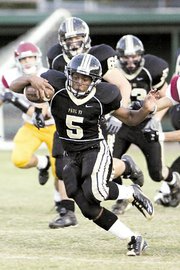 Besting Bishop Ireton, 43-20, at home, the Paul VI Panther football team is off to a 2-1 start this season after another win in the third week of play.
The Panthers scored first, but a 20-yard field goal by junior Owen Scarbrough was just the beginning of a 16-point scoring streak by PVI.
Next, junior Idreis Augustus (31 carries, 140 yards) scored his first of three touchdowns, followed by a 72-yard pass from junior Trevon Bennett to senior Dominic Sanders for another score.
At halftime, Paul VI led 16-0, but still Bishop Ireton fought back, scoring consecutive touchdowns before a 75-yard hookup from Bennett to junior wideout James Naylor, coupled with a 20-point fourth quarter, put the game out of reach.
Offensively, 230 yards passing from Bennett and 93 receiving yards from Sanders paced the Panthers. Naylor posted two catches for 77 yards and also returned a kickoff 45 yards for a score.
Another key player contributing to the Panthers' victory was junior Eric Wright, who had nine tackles and two interceptions — one interception was a 60-yard run that set the Panthers up for a touchdown.
On Friday, the Panthers will take on the undefeated Good Counsel Falcons.