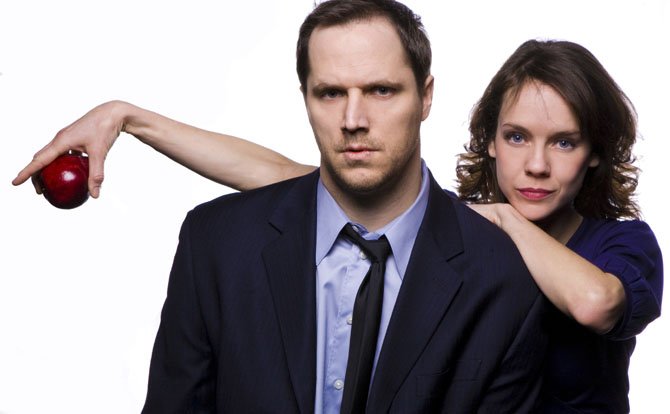 "Finding true love in today's busy world is more challenging than ever. Navigating all the possibilities is truly mystifying," said Helen Pafumi, director for the Hub Theater's upcoming "John & Beatrice," a comedy with bite.
The show is about the lengths some go to find that one right person. There is Beatrice waiting in her sparsely furnished 33rd-floor apartment. She has posted an ad proclaiming that a well-to-do heiress is seeking a man to interest her; a substantial reward is even offered. This brings John, a self declared bounty hunter. When John climbs the stairs to deliver his pitch, things commence as the struggles and games between the two take off.
The play was written by Carol Frechette, a Canadian playwright not well known in America. The Hub came upon the playwright when Pafumi participated as a 2011 selectee for the annual Canadian-Washington Theatre Partnership cultural exchange. The exchange is a prestigious partnership sponsored by the Canadian Embassy and professional theater companies in the DC metropolitan area.
"This play is an urban fairytale, or maybe a surreal story...It explores the disconnectedness that a lonely existence creates, and the longing to rise out of seclusion." said Pafumi.
With the work of scenic designer Elizabeth Jenkins McFadden, lighting designer Jonathan Alexander and sound designer Neil McFadden, "our intimate stage will be magically transformed into a high-up city apartment. The essence of the script will waft through the apartment into the audience with a tide of the emotions we paint," according to Pafumi.
When and Where:
"John & Beatrice" performed by the Hub Theater, at the John Swayze Theatre, New School of Northern Virginia, 9431 Silver King Court, Fairfax, VA. 22031. Performances April 13 to May 5. Friday-Saturday: 8 p.m.; Saturday and Sunday: 2 p.m. Tickets: $15-$25. Call 1-800-494-8497 or visit: http://www.thehub...">www.thehubtheatre....
Beatrice is played by Helen Hayes' award-winning Jenna Sokolowski. Eric Messner, a Helen Hayes' nominated actor, is cast as John. "Playing John is a great opportunity. He is almost unflappable with an edge. He is not cruel but rather has this ability to improvise to situations; to adapt to what is before him. John has to keep up as Beatrice changes things, trying to control the situation, even locking them in her apartment."
"When I first read the script I found it so intriguing. It is a sort of contest between Beatrice and John. We get to see them in so many layers of their relationship," Messner said.
"John and Beatrice" is a sharply written, heightened journey. "It is the right story, at the right time." Pafumi expects audiences will reflect, "I've done that too as they see how messy and wonderful love can be."