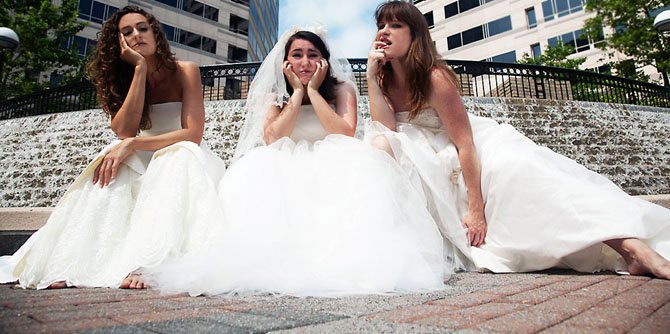 "A roller coaster of fun and emotion" is how Hub Theatre Artistic Director Helen Pafumi described its next production, "Big Love" by Charles Mee. "An enduring and epic love story. It's about conquering our basic needs and embracing our better selves. And it tackles these difficult discussions with theatricality, poetry, and power," Pafumi said.
Charles Mee is an American playwright known for developing new plays using ancient texts as his springboard, updating them into contemporary times and themes. Mee received an 2002 Off-Broadway OBIE for "Big Love."
Hub describes "Big Love" as taking off as fifty brides flee their fifty grooms to seek refuge in a villa on the coast of Italy. The grooms track down the brides arriving by helicopter in flight suits. All of this leads to the brides' rebellion with much mayhem. There are also much darker elements handled with comedic flair.
Helen Hayes award nominee Kirsten Kelly is directing "Big Love." "It asks really big things of you creatively and it challenges you to find huge heart, big theatrics, and intensely intimate connections. And to take big risks and create a world onstage where all of this comes together in a messy, wonderful, painful, raucous search for love is any director's dream to work on."
Music and choreography are key elements of the show. The choreography will be developed by Susan Shields professor of dance at George Mason University who was nominated for a Helen Hayes award for her choreography work in last season's "Stay."
According to Sarah Douglas cast as one of the brides, "The story and the characters are so rich and colorful; it's a banquette of different human experiences—love and hate, strife and celebration. I think that everyone who sees this play will see themselves in it."
Where and When
Hub Theatre production of "Big Love" at The John Swayze Theatre, New School of Northern Virginia, 9431 Silver King Court, Fairfax. Performances July 13-August 5, 2012. Friday-Saturday 8 p.m.; Saturday and Sunday matinees 2 p.m. Tickets: $15-$25. Visit http://www.thehub...">www.thehubtheatre... or call box office at: 800-494-8497.
For Michael Kevin Darnall, one of the grooms, the production "is a highly energized piece full of passionate characters who make such strong statements about what it is to be a man or a woman in this world, while battling out the question; how can the two polar sexes reconcile this crazy little thing called "love?"
According to director Kelly, audiences "can expect 'Big Love' songs from all generations; you can expect a big party and a massively wonderful fight scene." While "bride" Jessica Aimone said, "We have everything--fights, dance, singing, and dancing-all wrapped up in the cozy nest of a well-written, funny, poetic script."