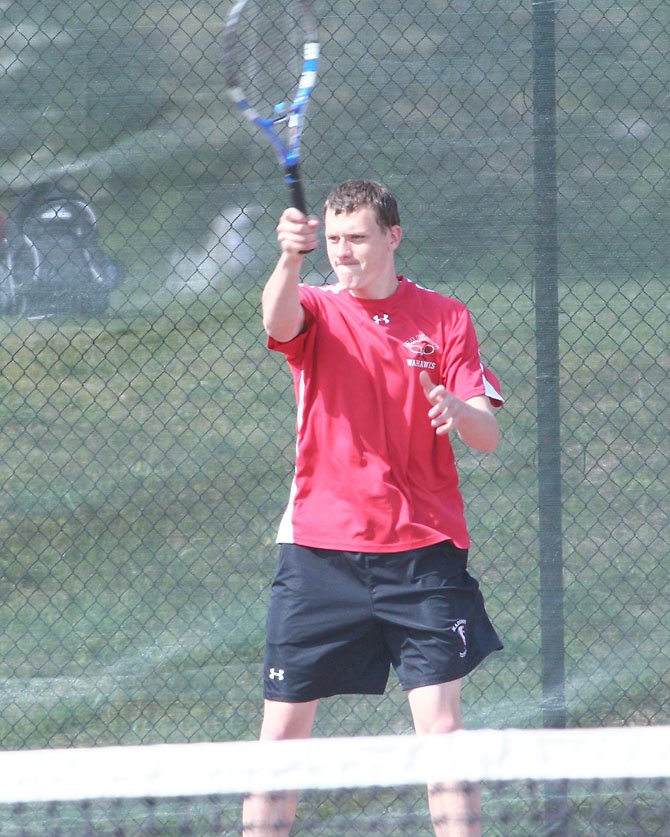 Vienna — This past Monday, April 9, the Madison High boys' tennis team improved its season record to 3-2 with a 7-2 win at Liberty District rival South Lakes in Reston.
The Warhawks, who are coached by Glenn Adams, won five of the six singles matches. In four of those matches, the Madison players all pulled out their wins after having been even or behind at the halfway point of their respective competitions.
Madison's singles winners were: No. 2 John Nothaft, 10-5 over Khoa Nguyen; No. 3 Alec Ostapovicz, 10-6 over Sam Evans; No. 4 Matt Bosco, 10-4 over McNeil Bauer; No. 5 Albert Chang, 11-10 (7-0 tiebreaker) over Phillip Katz; and No. 6 Alex Russell, 10-7 over Sunny Gupta.
Madison also won at both No. 2 and No. 3 doubles. At No. 2, Nothaft and Alec Ostapovicz defeated Nguyen and Adam Gorgos, 10-4. At No. 3 doubles, Aaron Plymack and Alex Dondershine of Madison bested Bauer and Gupta of South Lakes, 10-2.
Madison, with the team win, improved its record to over .500 at 3-2, while South Lakes fell to 1-4.
In its prior team match before last week's spring break week, Madison lost to defending Liberty District and Northern Region champion Jefferson High, 8-1. The competition took place on Monday, March 26 at Madison High in Vienna.
Madison's lone win came at No. 2 singles where Nothaft, a senior, defeated Kevin Wan, 10-5.
At No. 1 singles, Madison senior John Adam put up a strong showing versus Ben Rosenblum in a 10-7 setback. Alec Ostapovicz, also a senior, gave No. 3 opponent Brad Rosenblum stiff competition in a 10-7 loss as well. At No. 6 singles, Jefferson's Matt Spahr edged Madison's Alex Russell, a senior, in a tiebreaker, 11-10 (8-6).
Madison's No. 2 and 3 doubles teams lost close matches. At No. 2, Nothaft and Ostapovicz fell by a 10-7 score to Wan and Huang. At No. 3, Plymack, a senior, and Dondershine, a freshman, fell in a 10-8 decision to Matt Swanhorst and Ben Hsu.
Jefferson, with the team win, improved to 3-1 on the season.
IN A MATCH PLAYED on Wednesday, March 21 at Madison, the Warhawks defeated district opponent Stone Bridge High of Ashburn, 7-2.
At No. 1 singles, John Adam of Madison was an 11-10 (8-6) tiebreaker winner over opponent Brian Jones. Madison also received a victory at No. 2 singles where Nothaft beat Collin Beckham, 10-4.
Madison's other singles winners came at both No. 5 and No. 6. At No. 5,
Chang, a junior, won over Zach Bokulic, 10-8. And at No. 6, Alex Russell was a 10-4 winner over Matthew Bernhards.
Madison swept all three of its doubles matches versus the Bulldogs. At No. 1, John Adam and senior Gunnar Baskin won over Jones and Beckham, 10-2. At No. 2, Nothaft and Ostapovicz defeated Freitas and Bokulic, 10-3. And at No. 3 doubles, Madison's duo of Russell and Plymack were 10-1 winners over Kelly and Jeremy Basheda.
Two days earlier, Madison went up against district opponent Langley, one of the top teams in both the district and region. The Saxons got the best of the action, winning at home, 7-2, over the Warhawks. The competition was the season opener for both squads. Langley entered this season following a 2011 spring a year ago in which the Saxons finished second in both the district and region.
Madison, in the loss to Langley, got a win at No. 4 singles where Matt Bosco handled opponent JT von Seggern, 10-4. Madison's other victory came at No. 2 doubles where the prolific twosome of Nothaft and Ostapovicz slipped past Saxon players Niu and Anudeep Boddu by a 9-8 (7-2 tiebreaker).