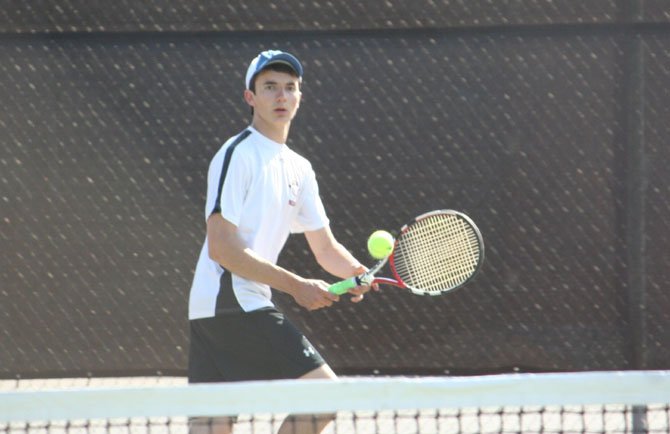 Vienna — In a Liberty District boys' tennis match on April 16, the Langley High Saxons defeated the Madison Warhawks, 6-3, in the competition held at Madison in Vienna.
Langley was without No. 3 singles player Jimmy Fang. But the Saxons were still able to win four of the six singles matches. The following are results of the six singles matches:
Langley's Brandon Lee over Madison's John Adam, 10-4, in No. 1 singles; Langley's James Schenck over Madison's John Nothaft, 11-10 (7-0 tie-breaker) at No. 2 singles; Madison's Alec Ostapovicz over Langley's Anudeep Boddu, 10-3, at No. 3 singles; Madison's Matt Bosco over Langley's Calvin Li, 10-7, at No. 4 singles; Langley's Joe LaFuria over Madison's Albert Chang, 10-3, at No. 5 singles; and Langley's Brian Niu over Madison's Alex Russell, 10-7, at No. 6 singles.
Langley took two of the three doubles matches. At No. 1 doubles, the Saxons' twosome of Lee and Jeff Small defeated Madison's John Adam and Gunnar Baskin, 10-5. At No. 2, Langley's duo of LaFuria and JT von Seggern bested Madison's Nothaft and Ostapovicz, 10-6.
Madison's No. 3 doubles team of Aaron Plymack and Alex Dondershine was victorious over Langley's Schenck and Niu, 10-7.
Langley, with the team win, improved to 7-1 on the season. Madison is now 4-4.