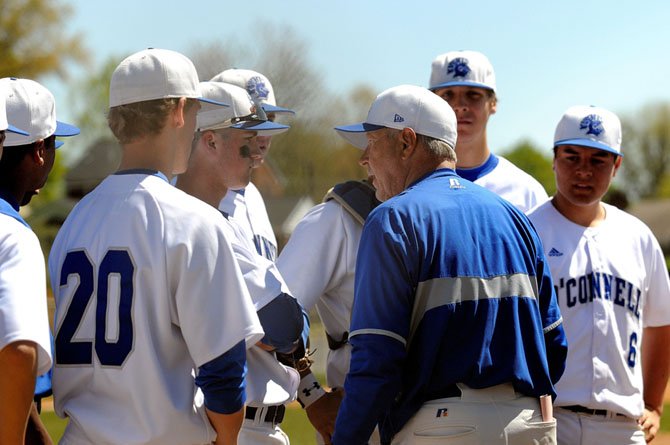 Arlington — Facing a 3-1 count with the score tied in the bottom of the first inning against St. Mary's Ryken, Bishop O'Connell designated hitter Brooks Carson took what he thought was ball four and headed toward first base. The home plate umpire called the pitch a strike, however, forcing Carson to return to the batter's box.
Rather than sulk in disappointment, Carson made the most of his opportunity, blasting the following delivery over the left-field fence for a two-run homer. Back-to-back singles to open the inning, a sacrifice bunt and an RBI groundout helped the Knights secure an early lead.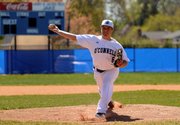 The Bishop O'Connell baseball team's level of execution early in the April 7 contest in Arlington was what head coach Rick Hart expects from his players. Starting pitcher Nick McIntyre worked his way out of a bases-loaded jam in the top half of the first inning and the Knights found a way to score runs in the bottom half. But as the game progressed, O'Connell's execution faltered and the Knights wound up on the wrong end of a 12-6 final score, dropping their record to 7-8. After the game, Hart had a lengthy talk with his team, calling the Knights' performance unacceptable.
"We are not the best offensive team — I know that, we all know that — but there are a lot of different ways to win a baseball game," Hart said about the Knights, who averaged four runs per game through 15 contests. "What I cannot take and what I cannot accept — and what I will never accept — is [poor fundamental play]. We work every single day on fundamentals, respecting the game and playing the game the right way and that is why I am so hot right now. I'm not hot about our record — I don't like our record — [but] … we teach playing the game the right way and that group that was out there today, I don't know what else they could have done to screw it up anymore than they did."
"We need to get back to playing passionate baseball. We need to start caring a lot more about what we do."

— Bishop O'Connell sophomore Andrew Tessier
O'Connell took a 3-1 lead in the first, but an uncaught third strike and a poor throw to first base in the second inning led to four runs for St. Mary's Ryken. The Knights trailed 7-5 after five innings, but a poor throw across the diamond in the sixth inning led to two more runs for SMR.
"As a team, we didn't do what we needed to do to win," McIntyre said. "We didn't play a good game defensively. We started out well offensively but kind of got lost in the approach, which was to get a lot of hits into play and make the defense make plays. [Hart] has a right to be mad. We didn't play [well]."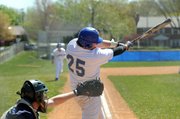 McIntyre suffered the loss for O'Connell, running into some tough luck at times. The junior right-hander allowed seven runs — three earned — on eight hits in 4 2/3 innings. He walked three, hit one batter and struck out five.
"We didn't help him," Hart said of the Knights' performance around McIntyre. "We're not helping him offensively, and then we start kicking the ball around. … We can't throw the ball 90 feet. It's hard to watch."
A throwing error and two infield hits contributed to a four-run second inning for SMR.
"I can only do my job, which is throw strikes and I think I did a pretty good job of it," McIntyre said. "But they did the thing that we tried to do, which is hit the ball into play and make the defense make plays and unfortunately, they had some hits that found holes and, at the end, they had a couple good hits … which were solid-hit balls."
Offensively, sophomore first baseman Andrew Tessier had a single and three RBIs for O'Connell. Freshman center fielder Doug Gressly had two hits and an RBI, and senior left fielder Jackie Beaver, senior shortstop Charlie DiGuilian and sophomore Hayden Basse each had one hit.
"We need to get back to playing passionate baseball," Tessier said. "We need to start caring a lot more about what we do."
O'Connell will travel to face Gonzaga at noon on Saturday, April 14.