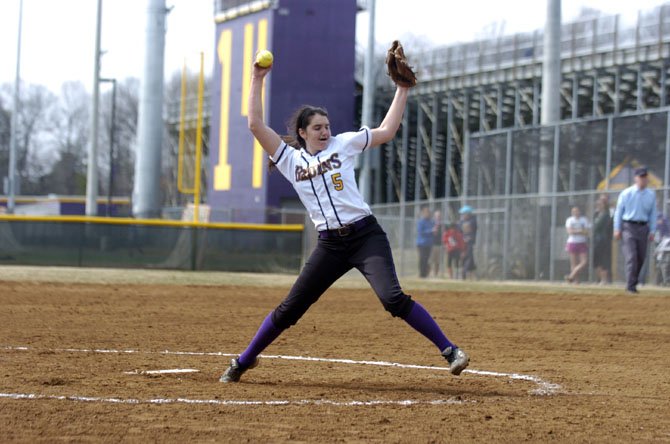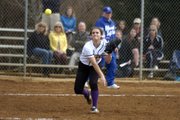 The Lake Braddock softball team returns two all-state athletes from a 2013 group that captured the program's first district championship since 2001.
If Saturday's performance against Bishop O'Connell, one of the premier programs in the Washington, D.C.-metro area, is any indication, the Bruins have a chance to be even better in 2014.
Lake Braddock senior pitcher Ashley Flesch hurled a one-hitter and the Bruins defeated O'Connell 2-1 on March 22 in Burke.
O'Connell, a private school located in Arlington, has won the last 10 Washington Catholic Athletic Conference championships, yet Flesch had a perfect game going entering the seventh inning. She hit O'Connell leadoff batter Hayley Metcalf with a 3-2 pitch, giving the Knights their first base runner of the afternoon. After retiring the next two batters, Flesch surrendered a single to O'Connell first baseman Olivia Giaquinto, ending the no-hit bid. A Lake Braddock error on the play allowed a run to score and put the tying run in scoring position for the Knights, but Flesch got O'Connell pitcher Erin Sweeney to fly out to left field to end the game.
"[Flesch] started getting tired, I think, but she held it together," Lake Braddock head coach George Rumore said. "I didn't want to switch [pitchers] in the seventh because she had a no-hitter going."
After Flesch lost her perfect game, Lake Braddock had an infield meeting near the pitcher's circle to discuss strategy. Did Flesch struggle to bounce back?
"No. I was just trying to get the win the whole time," Flesch said. "I didn't even realize that I had a perfect game until after the fact. But, oh well. We got the win, that's all that matters."
"Every year, we've gotten more and more talent and we just expect more out of each other. We're expecting to get further and further every year."

--- Lake Braddock senior Ashley Flesch
Flesch, who earned honorable mention all-state honors as a pitcher last season, threw seven innings, allowing one hit and one unearned run. She struck out eight, walked none and hit one batter.
While O'Connell struggled to get the bats going, Lake Braddock jumped out to a 1-0 lead in the first inning when junior first baseman Amanda Hendrix, a first-team all-state selection last season, delivered an RBI double. The Bruins added what proved to be a pivotal insurance run in the bottom of the sixth, when junior center-fielder Jenna Edwards led off the inning with a single and, two batters later, sophomore left-fielder Danielle Newman drove her in with an RBI double.
Edwards finished 2-for-3. Flesch and junior second baseman Katherine Plescow each had a single.
Last season, Lake Braddock finished 19-2 and defeated six-time defending Patriot District champion South County for the Bruins' first district title in more than a decade. However, four days after beating the Stallions in the Patriot District championship game, the Bruins lost to Centreville in the opening round of the regional tournament.
Rumore said the Bruins entered regionals mentally drained after winning the district title. Flesch, a four-year varsity athlete, said Lake Braddock has a chance to be even better this year.
"It was a great measuring stick for us, where we are, what we need to improve," Flesch said of beating O'Connell. "… That's a big boost for the team, mentally. … Every year, we've gotten more and more talent and we just expect more out of each other. We're expecting to get further and further every year."
If Saturday's win is any indication, the Bruins have a shot to make that happen.
"It's a good win for us, especially under the circumstances --- nobody's really been [outside]," Rumore said. "This is only our third time since tryouts started we've been out on a field, so it's nice."
Lake Braddock will travel to face South County at 6:30 p.m. on Friday, March 28.