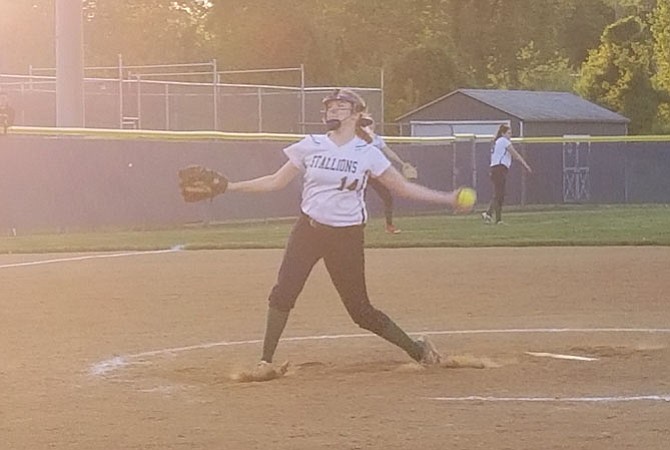 "With as many young kids as I've got, it was very important for us to win tonight for them to know that they can [beat Lake Braddock]." — South County softball coach Gary Dillow
South County softball coach Gary Dillow recognizes freshman Cara Martin as a cool customer in the pitcher's circle.
But despite being poised beyond her years, the Stallion southpaw experienced nerves during her first meeting with rival Lake Braddock, when South County traveled to Burke on April 20 and came out on the losing end of a 3-1 score.
Eighteen days later, Martin got another shot at Lake Braddock and this time, No. 14 mowed through the Bruins with the skill and focus of a veteran hurler.
With the top seed in the Patriot District tournament on the line, Martin allowed just one hit and struck out 12 while the Stallions defeated the Bruins 3-1 on Tuesday at South County High School.
Martin retired 16 of the final 17 batters she faced, a stretch of dominance interrupted only by a Bruin reaching base via South County error.
THE VICTORY earned the Stallions a regular-season split with the Bruins and home field advantage throughout the district tournament.
"I was concerned — they beat us the first time we played them, 3-1 — and with as many young kids as I've got, it was very important for us to win tonight for them to know that they can [beat Lake Braddock]," Dillow said. "I would certainly expect to see them again a week from Friday in our district finals."
When asked about some of the differences between Tuesday's contest and her April start against Lake Braddock, Martin, one of four freshmen on the South County roster, acknowledged her initial meeting with the Bruins was nerve-wracking.
"I felt a lot more pressure the first time because it was the first game I've ever played against Lake Braddock [and] there's always that rivalry that's going on," Martin said. "It's such an enclosed space (at Lake Braddock's field) — the dugouts aren't as big and the bleachers are like right there, so it all felt like it was pressing in on me. I tried to keep a level head, I tried to keep doing what I needed to do, but it was a little harder to keep your head [straight]."
While things went much smoother for Martin during most of Tuesday's contest, she did have to pitch out of trouble early.
Ellie Mataya led off the game with a double, Lake Braddock's only hit, and the Bruins had runners at first and third with one out but failed to score in the opening frame.
In the second inning, Lake Braddock had batters reach via hit by pitch, base on balls and intentional walk, but Martin limited the Bruins to one unearned run, which scored on a throwing error.
After a fly out to center field ended the top of the second inning, no Lake Braddock batter managed to hit the ball out of the infield against Martin for the remainder of the game.
Dillow said Martin carries herself like her older sister, Rebecca, a four-year starter for South County who was in the pitcher's circle when the Stallions captured the 2014 6A state championship.
"She doesn't get rattled," Dillow said. "She's just like her sister. Her sister was the same way: you can't tell by looking at her whether we're up five or down five. It's just really impressive."
Martin struck out six in a row during the third and fourth innings.
"She was on today," South County catcher Emma Yates said. "We trust her in the circle."
Along with catching Martin's gem, Yates, who will play at Virginia Tech, also played a key offensive role. The junior led off the bottom of the fourth inning with a single and moved into scoring position when Kyndal Harrison followed with a sacrifice bunt. With two outs, Yates scored the tying run from second base on a Lake Braddock fielding error despite the ball staying in the infield.
"[Yates is], in my opinion, one of the best catchers I've ever seen, defensively," Dillow said. "She's a leadoff [hitter and] she certainly doesn't run like a catcher."
In the bottom of the fifth, South County scored the go-ahead run on a wild pitch and Yates plated an insurance run with a sacrifice fly.
THE PATRIOT DISTRICT TOURNAMENT quarterfinals are scheduled for Friday, May 11, the semifinals are set for May 15 and the championship game will be held May 18.