Bank Robbery in Great Falls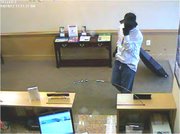 Police responded to the report of an armed robbery at the Washington First Bank at 9851 Georgetown Pike on Wednesday, April 18 shortly after 11:30 a.m.
A man entered the bank, implied that he had a weapon and demanded money. An undisclosed amount of cash was handed over and the suspect fled on foot. There were no injuries.
The suspect was described as black, between 34 and 36 years old. He was 5 feet 10 inches to 6 feet tall, with a slender build. He was wearing a white jacket and a black rain hat.
Police helicopter and K-9 units responded to check the area.
Anyone with information is asked to contact Crime Solvers by phone at 1-866-411-TIPS/8477, e-mail at www.fairfaxcrimesolvers.org or text "TIP187" plus your message to CRIMES/274637 or call Fairfax County Police at 703-691-2131.
Fundraiser at L'Auberge Chez Francois
On Saturday, April 28, at 11 a.m., Chef Jacques Haeringer and L'Auberge Chez Francois will honor the men and women of America's military by hosting a cooking demo to raise funds for Freedom Alliance, a nonprofit located in Dulles, Va., founded by Lt. Col Oliver North in 1990.
Freedom Alliance works with injured service members across the U.S. and locally at Walter Reed National Military Medical Center and Bethesda Naval Hospital and operates a scholarship fund for children whose parents have sacrificed life or limb in service to the country.
This special cooking demo will be limited to the first 35 couples. To make a reservation online, go to: https://support.freedomalliance.org/chezfrancois, or call Amy Amundson at 703-444-7940.
Chef Jacques Haeringer's menu for this event is Gratin of asparagus, Medallions of beef and veal with grilled lamb chop and Chocolate Symphony cake.
The price to attend is $150 per person.
www.LAubergeChezFrancois.com and www.ChefJacques.com.
Meeting on Travel Soccer in Great Falls
Have you ever wondered what travel soccer is all about? What is the time commitment? What is the tryout process like? Is it a good fit for my child/family? These questions, along with many other, will be answered on Wednesday, May 2 from 6-7 p.m. at Forestville Elementary in Great Falls at a meeting especially designed for the parents of rising U9 players (mainly rising 3rd grade students, contact us for birth date requirements). For more information contact administrator@greatfallssoccer.com.
Art Exhibit
Join the Great Falls Artists' Atelier for the opening reception of a show by Roberta Pruett Beasley. The show, which features paintings and works on paper, will run from May 1 to May 31. Free and open to the public. May 4, - 6:30 - 8:30 p.m. will be the opening reception. 1144 Walker Road, Great Falls. 703-994-3165.