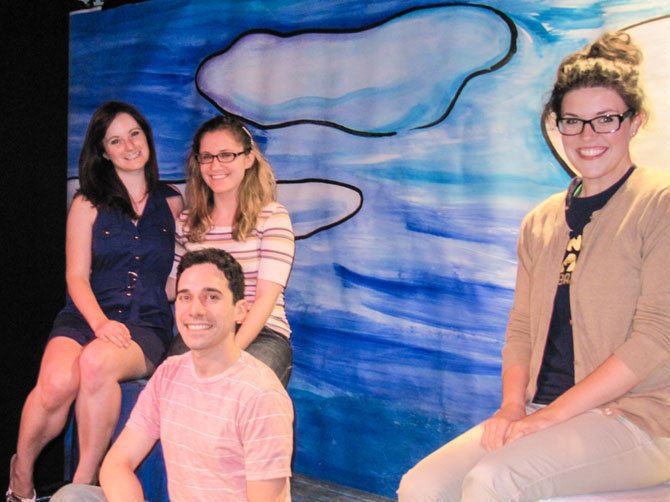 In a humorous musical production that bends the rules with "what if" playfulness, Falls Church's Katie Culligan joins forces with another Falls Church resident, pianist Walter (Bobby) McCoy, to give audiences a cabaret evening of "She said, He said: A Cabaret of Musical Theatre Oddities" at the Creative Cauldron on Falls Church.
The show is part of the Creative Cauldron's "FOURTHWall" summer cabaret collection. It is a series where the entertainers are close to the audience as they perform in a friendly, welcoming space.
The "She said, He said" musical entertainment is built around reversing the usual roles of who sings what to whom. "We decided to develop and perform this particular theme of reverse gender roles due to the fun and creativity we could have with it," said Culligan. "Just because the role is written for one gender doesn't mean we don't have a love for the role and songs the character sings. This is our avenue to embrace and individually interpret each role.
"So often as singers, we are cast to sing to a particular type," continued Culligan. But in this 90-minute song-full evening the audience will receive a new way of seeing and hearing songs that they know well, according to Culligan.
"The audience can expect, quite literally, the unexpected," said Culligan. There will be all different types and styles of music from Broadway show tunes such as Stephen Sondheim's "Not Getting Married Today," to "Nobody Needs to Know" from the award winning musical "The Last Five Years," to an unexpected send-up twist on a Gilbert and Sullivan favorite, to even country blues and more. There will be solos, duets and group numbers, some with "a capella" arrangements.
Along with Culligan, a 2003 graduate of Langley High School and McCoy a recent graduate of Marshall High School, there will be area musical theater veterans Sherry Benedek, Ben Lurye and Shea-MIkal Green. Lurye and Benedek worked together singing with the professional Washington Savoyards while Green has performed in musical comedy at the professional Cumberland Theatre.
McCoy recently finished conducting "Legally Blonde: The Musical" for the McLean Community Players. He has also worked with choral groups at Cooper Middle School in McLean and Kilmer Middle School in Vienna.
The production allows the performers "to make creative and wild choices," Culligan said. "We look forward to seeing audience members step out of the comfort zone of typical musical theatre expectations."
Where and When
Creative Cauldron, 410 South Maple Avenue, Falls Church 22046. "She Said, He Said: A Cabaret of Musical Theatre Oddities." Performance: Saturday, Aug. 11, 8 p.m. Tickets: $18-$20. Phone: 571-239-5288 or log on: www.creativecauldron.org.