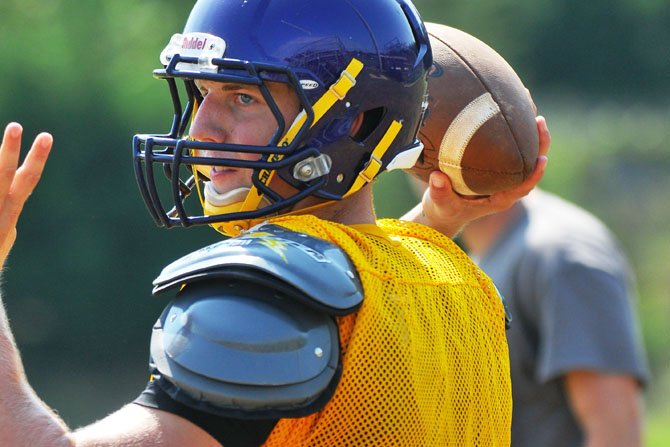 Donning a purple helmet and shoulder pad-revealing gold practice jersey, Caleb Henderson displays his Division I-caliber right arm during a practice at Lake Braddock Secondary School. The rising junior fires passes to his receivers and moves the offense up and down the field.
Last year, Henderson established himself as one of the top quarterbacks in the region during his sophomore season at West Potomac. After splitting time early in the 2011 campaign, Henderson became the full-time starter and thrived in the Wolverines' spread offense. Playing for his father, Head Coach Eric Henderson, Caleb passed for 2,403 yards and 27 touchdowns, rushed for 528 yards and four scores, and led West Potomac to a share of the Patriot District title and a berth in the region semifinals. He was named second-team all-region and appeared to have a bright future as the Wolverines' signal caller.
Nine months later, Caleb Henderson, who has received scholarship offers from Michigan State, Virginia, Illinois and other colleges, is preparing for his junior season as the quarterback of the Lake Braddock football team, which won back-to-back Northern Region titles in 2009 and 2010. He and his brother, Jon, transferred to the Burke secondary school near the end of the 2011-12 school year after their father was informed he would not return as West Potomac head coach. The addition of Caleb Henderson to an already talented team would seem to make the Bruins one of the favorites to win the Northern Region in 2012.
"I really enjoy the team," Caleb Henderson said. "It's a great team, great coaching staff. It was a really easy transition, too, because they run the exact same offensive stuff [as we did at West Potomac], so it was really easy for me to kind of slip in and show everybody what I can do and have the team trust me."
Despite an 8-4 record and a playoff victory in 2011, Eric Henderson, who was hired as West Potomac head coach in 2004, was not retained for a ninth season. The decision led to Caleb and Jon transferring to Lake Braddock near the end of the 2011-12 school year. The Henderson family moved to Burke in June and Eric is now the Lake Braddock defensive coordinator under Head Coach Jim Poythress (former West Potomac assistants Dave Murray and Sean Brooks are also on the Bruins' staff). Henderson taught and coached at Lake Braddock from 2002-2004 and attended Fort Hunt High School with Poythress.
Poythress said his familiarity with the coaches and their knowledge of the Bruins' spread offense (Murray and Brooks worked at West Springfield with Bill Renner, who installed the spread at Lake Braddock) makes the addition of the former Wolverines a logical fit.
Others, Poythress said, see the arrangement in a negative light.
"The staff camaraderie and that sort of thing is as good as it's ever been," said Poythress, who enters his ninth season as Lake Braddock head coach. "Everybody gets along--I've known these guys for years. It's not like we just met when they became available. The difficult part was that Coach Henderson left that job, he needed to find a new job and, sure, I wanted him and so do other people, but…his kid comes with the dad, then a lot of people open their mouth and make accusations. It's just ridiculous."
"That's not fair to a 16-year-old kid. It was tough on coach and it was tough on his family. As a result, we're getting questioned all the time and to me it seemed like a lot of people were sticking their nose where it didn't belong. But it all worked out in the end and I think that they're happy now."
Poythress said it makes sense for an athlete to want to play in a system that fits his skill set.
"I think it's more adult-driven issues and it seems to come with success," the coach said about those who have accused the Bruins of wrongdoing. "Before we stepped up a little bit, it was always Robinson being accused of something and then Westfield was always accused of something. But if you really looked into it, a lot of times it was jealousy or it was 'How come you keep getting the good kids?' Even I was one of those guys. After we won a couple regional championships, all of the sudden you realize, people want to go here."
With Caleb Henderson at the helm, Lake Braddock figures to improve on last season's performance, which included being held to less than 10 points four times. Some of his potential pass-catching targets are A.J. Alexander, Austin Wolfe, Vincent Sica and Ryan Antonellis. Jason Hoskins, after playing linebacker for two seasons, will become the Bruins' primary running back threat.
"All of a sudden you have the No. 1 sophomore quarterback in the country last year in some polls," Poythress said. "He's a legitimate scholarship player. You hand him the keys to the car, things change."
On the defensive side, Eric Henderson praised the Bruins' front four off end Romario Peart, 3-technique Joe Achour, nose guard Reece Burnett and end Dean Doe. Henderson said the six-foot-two, 305 pound Burnett "could play Division I football anywhere he wants." Safety Rori Renzi is also expected to be a difference-maker on defense.
Eric Henderson said his transition from West Potomac head coach to Lake Braddock defensive coordinator has been a good one.
"I was getting burned out," he said. "I think any coach is good for a situation for eight to 10 years and I was probably reaching the end of my tenure. I had been looking around at other opportunities. You get to the point where you've been a head coach for 12 or 15 years and sometimes you just want to deal with football and not the paperwork and the sideshow aspect of being a head coach. I much prefer this. At this stage of my career I don't need to be a head coach."
Lake Braddock opens the 2012 season on the road at 7:30 p.m. on Friday, Aug. 31, at Centreville. So far, things are looking promising for the Bruins and their additions from West Potomac.
"It's been great," Burnett said. "It's not like they came from another school. There hasn't been any problem, yet. The coaches get along great."