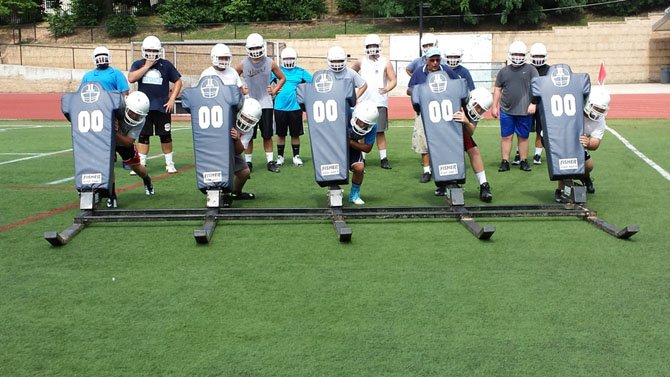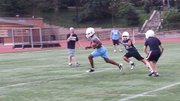 MJ Stewart's football talents are well known around Northern Virginia.
For the past two seasons, the Yorktown standout burned opposing defenses as a ball carrier, helped shut down opposing offenses as a defensive back and made an impact in the return game. In 2012, he earned first-team all-region honors in all three facets of the game.
Entering his senior year, Stewart is committed to the University of North Carolina and has little left to prove at the high school level. This season, however, Yorktown head coach Bruce Hanson said Stewart will line up in different places on both sides of the ball, keeping opponents guessing from where he'll attack.
Just in case he hadn't cause enough headaches for opposing coordinators.
"Last year, he was our feature back but we never … really moved him around from his position," Hanson said. "But this year, you're never going to know where he's going to be all the time. He's a smart kid … so we can move him around a little bit."
In two seasons after Stewart transferred to Yorktown from Bishop O'Connell, the Patriots went 24-2, won a pair of National District championships and twice finished Group AAA Division 5 Northern Region runner-up. As a junior, he rushed for 1,842 yards and scored 36 touchdowns, according to stats from the Washington Post. With Yorktown graduating several key athletes from its 2012 team, Stewart figures to have an even larger role this season as Yorktown moves up to 6A after the VHSL's six-class realignment.
"Last year, (MJ Stewart) was our feature back but we never … really moved him around from his position. But this year, you're never going to know where he's going to be all the time. He's a smart kid … so we can move him around a little bit."

--- Yorktown football coach Bruce Hanson
On defense, Stewart, whose primary position has been safety, will see time at cornerback, the position he will play at UNC.
"I know I've got to step up because there are a lot of young guys," Stewart said. "… [I] definitely [need to step up] on the defensive side, be more of a voice on the field and a voice in the locker room. That's a role I kind of have to take on that I haven't had to take on in previous years."
Joining Stewart in the offensive backfield is senior quarterback Will Roebuck, who returns for his second varsity season. Roebuck was a first-team all-district selection last season and said he feels he has a better grasp on his role in the offense.
He also realizes the importance of Stewart.
"MJ is MJ. He's been our biggest player for the last [two] years," Roebuck said. "Hopefully he's going to have a better season this year. I have full confidence in him. … He's the centerpiece of our offense."
Senior Da'Jhaun Short will play fullback for the Patriots, who operate primarily out of the spread and the wing-T. Senior Greg Dalzell will play wing back, and juniors Joe McBride and Parker Dean are pass-catching threats at receiver.
Senior tackles Teddy Schroeder and Jason White will anchor the offensive line.
On defense, juniors Jack Storrs and Sean Coleman are standouts at linebacker, and seniors Reece Lincoln and Nick Jennings are the cornerbacks. Senior Logan Robinson is an impact player at defensive end, along with junior Quinn Cox at nose guard.
Yorktown moves up to 6A and joins Conference 6, which is composed of teams from the former Liberty and National Districts. Other teams in Conference 6 are: Fairfax, Langley, Madison, McLean, South Lakes, Hayfield and Washington-Lee. However, the Patriots' 2013 schedule looks much like it did in previous seasons as they face each of the seven opponents who used to be in the National District, along with games against Coolidge, Langley and Chantilly.
"Since the year I got here, I've wanted to play those teams in 6A," Stewart said. "It's going to be a new challenge to some people, but to me it's just another team. They lace up the same as us, put their shoulder pads and helmets on the same as us. It's just another team to me."
Yorktown will host a scrimmage against Woodbridge at 7 p.m. on Aug. 16 and travel to Lee for a scrimmage on Aug. 22. The Patriots will open the regular season at home against Coolidge at 7:30 p.m. on Aug. 29.