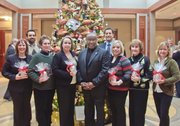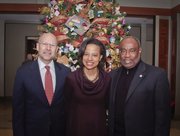 The Alexandria Convention and Visitors Association presented the 2012 Superstar Awards at its December Tourism Marketing Forum Dec. 7 at Mount Vernon Estate and Gardens, using the occasion to formally introduce Patricia R. Washington as the new president and CEO of the city's tourism agency.
"I am excited to be in Alexandria," Washington said. "And these awards are great examples of how ACVA will work in partnership with the entire Alexandria tourism community to amplify Alexandria's appeal."
The Superstar Awards recognize individuals and organizations who have greatly contributed to the success of the ACVA over the past year. This year's winners included the City of Alexandria's Office of Communications, Sandy Modell and Allyson Teevan of Alexandria Transit Company (DASH) and the King Street Trolley, Christy Borrel of the Crowne Plaza Old Town and Holiday Inn and Suites Alexandria - Historic District, Mellenie Runion of Truly-Life Eco Gifts and Sandy Wargowski of the Alexandria Visitors Center.
— Jeanne Theismann