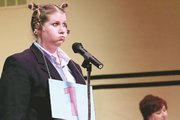 It's an American institution that millions of children have suffered through — the spelling bee — and contestants in the 25th Annual Putnam County Spelling Bee are preparing for the county championship in this lively production of the Tony Award-winning musical now playing at The Little Theatre of Alexandria.
With music and lyrics by William Finn and book by Rachel Sheinkin, the show centers on a fictional spelling bee at Putnam Valley Middle School where six misfit teens are competing in the championship Bee.
Amy Conley is Rona Lisa Peretti, the bee's moderator who won the Bee herself as a child. Ms. Peretti is also the audience's narrator together with Vice Principal Douglas Panch, played to persnickety perfection by Jeff Davis. Carl Williams rounds out the trio of adults as Mitch Mahoney, who is doing community service as the Bee's "comfort counselor" to eliminated contestants.
The Bee's six contestants include defending champion Chip Tolentino (Eric Hughes); Logainne Schwartzandgrubenierre (Emily "E.J." Jonas), the radical daughter of two gay fathers; Leaf Coneybear (Josh Goldman), who despite finishing third in his previous competition ends up in the finals because two other girls had to attend a Bat Mitzvah; Marcy Park (Claire O'Brien), an overachiever who advanced to last year's national championship; William Barfee (Matt Williams), a quirky teen who spells out words with his "magic foot"; and Olive Ostrovsky (Maureen Rohn), a soft-spoken teen who finds solace in the dictionary.
The ensemble cast is exceptionally talented, each with strong vocals and improvisational skills, which come in handy as four random adults are chosen from the audience to participate onstage as contestants in the Bee.
"That part of the show is a lot of fun but very unpredictable," said LTA publicist Rachel Alberts. "We scout out people in the lobby just before the show and ask them if they would like to participate."
Directed by Frank Shutts and produced by Mary Beth Smith-Tomey, the physical energy of adolescence is masterfully orchestrated by Shutts and brought to life through choreographer Grace Manly Machanic. Music direction is by Christopher A. Tomasino with sets and lighting by Ken and Patti Crowley.
The original 2005 Broadway production was nominated for six Tony Awards, winning two, including Best Book for Sheinkin, and the original Broadway cast recording was nominated for a Grammy Award.
With a gifted cast and catchy score, The Little Theatre of Alexandria's revival of The 25th Annual Putnam County Spelling Bee can be summed up in one word: S-U-C-C-E-S-S.
The 25th Annual Putnam County Spelling Bee is playing now through Feb. 4 at The Little Theatre of Alexandria, 600 Wolfe St., Alexandria. For tickets or more information, call 703-683-0496 or visit www.thelittletheatre.com.