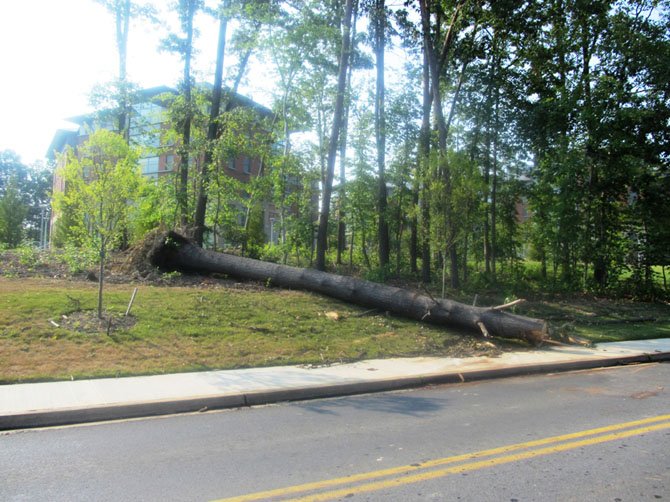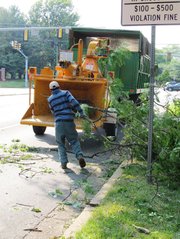 More than 80,000 residents were still struggling with power outages and triple-digit temperatures Monday after a wave of violent thunderstorms slammed the region Friday, June 29, packing hurricane-force winds that uprooted trees, downed power lines and knocked out power to more than 1 million homes.
The fast-moving line of thunderstorms rolled through the area without warning, surprising residents with 50-80 mph winds and wreaking havoc as trees toppled on homes and roadways.
"Fairfax County was especially hard hit. We are still struggling with widespread power outages and diminished landline phone communication," said Supervisor Jeff McKay, (D-Lee).
Shortly before 11 p.m. on Friday evening, fallen trees were blamed for the deaths of two people in the area. A 90-year-old Springfield woman died when asleep in bed after a tree crashed into her home 8100 block of Carr Street. At approximately the same time, a 27-year-old Burke man died when a tree fell directly on his car as he was driving on Old Keene Mill Road near Bauer Drive. Fairfax County police said Khiet Nguyen was pronounced dead at the scene of the crash.
"We had massive damage through the county, so Virginia Dominion Power has been busy trying to get to all of those sites," said Dave McKernan, Fairfax County's Emergency Management Coordinator.
"Trees down on wires prevent roads from opening because VDOT will not work those sites until they can confirm the power is off to those wires. Then we can get the trees out of the way and traffic moving again," McKernan said.
More than 80 intersections in Fairfax County remained without working traffic lights on Monday - including West Ox Road and Fair Lakes Parkway in Fairfax and Lorton Road and I-95 - causing numerous fender-benders and small collision, according to police. Officials urged motorists to obey 4-way stop rules at intersections without power.


BY MONDAY, JULY 2, Dominion Virginia Power had restored power to approximately 600,000 of 831,000 customers in Northern Virginia, according to Carolyn Moss, a regional managing director for the utility.
"Friday's storm was the largest non-hurricane related outage in our company's 100-year history," Moss said, adding that Dominion Power expected to have all remaining service restored by Saturday.
In addition to widespread power outages, residents were also struggling with record-high temperatures. On Friday, temperatures reached 104 degrees - topping a record of 101 set in 1934 – and many homes were left without power and air-conditioning as the National Weather Service warned the heat index could reach 110 degrees later this week.

Fairfax County Executive Ed Long issued a statement Monday through Fairfax County's emergency blog saying there were "plenty of places to go to stay cool as weather is going to stay hot this week."
"While things have gotten significantly better since Friday, we are still experiencing some difficulties," Long said. He urged residents without power to go to various "cooling sites" throughout the county, such as libraries, recreation centers and shopping malls.
"We're all optimistic that by the end of the week, things will be worked out and we're asking people to be patient," Long said.
City Fairfax Declares State of Emergency
City of Fairfax officials announced a state of emergency Monday as more power crews arrived in the city to restore electricity to the 900 homes still without power, according to Mayor Scott Silverthorne.
"The number is down from 10,000 –plus on Saturday," Silverthorne said. "It's my hope that those without power will be restored by this evening."
According to Dominion Power, nearly 90 percent of city customers experienced a power outage after a wave of violent storms tore through the region Friday, June 29, downing power lines and trees.
Ken Rudnicki, the city's emergency coordinator, said city officials declared a state of emergency, effective June 29, after determining that "resources were overwhelmed."
"Basically, we're making sure our ducks are in line to get federal assistance when and if it becomes available," Rudnicki said, adding that declaring "a state of emergency" allows the city to streamline procedures to obtain equipment and services needed for clean-up.
"Let's say we needed a bulldozer. Normally, we'd have to go through (extensive) permitting process. Under the declaration, if we need a bulldozer we get a bulldozer," Rudnicki said.
Silverthorne said the City's Fireworks celebration, which draws nearly 20,000 people from all over Fairfax County, is still on.
"I think we all need something good to celebrate, but I'm hoping this will all be cleared up by tonight or tomorrow," Silverthorne said.
Burke: Happy Meals, Starbucks and Fuel
On Saturday evening at Burke Centre Shopping Center, fast-food restaurants and gas stations were jammed with cars
"It's been crazy busy today. Kids are happy we're open, and people don't seem too stressed," said Ravinder Kaus, a McDonald's cashier.
Several gas stations in Burke and Fairfax ran out of gas and were shuttered by early Saturday afternoon, but the Burke Centre Exxon station was open for business, and a long line of cars wrapped around the gas station Saturday evening. Several motorists expressed frustration at the nearly hour-long wait for gas.
"This is just too long," said Fairfax resident Tim Kellin, who was pumping gas in the sweltering heat after waiting in line for 45 minutes. He said he had been to several closed gas stations before finding the Burke Exxon open at 6 p.m. "I don't think you can print the rest of what I have to say."

Steven Goodheart, a meteorology student at George Mason University, decided not to wait for gas, and headed for the Starbucks in the shopping center. "We saw the storm coming last night," said Goodheart, who lives on Popes Head Road. "The winds were changing direction very fast, which is not a good sign." He said the power was still out at his home, and he planned to stay with a cousin in Woodbridge for the weekend.
Burke resident Alex Miegel, who grabbed coffee and pastry at the Starbucks, said his power came on about 3 p.m. "We were very lucky. What was weird (about the storm) was that it didn't last that long, but there were major winds. It felt like intense, and then you see all this damage."
Tiana Hoffer, a college student home for the summer, sat outside the Starbucks, sipping coffee and working on a research project. She said power was still out at her family's home in Burke. "I'm here to mooch off their wi-fi," she said, joking. "My mom was definitely freaked out by the storm last night. The lightning was non-stop."
On Monday, Supervisor John Cook (R- Springfield) said his office in the Kings Park Library was open after losing power during the weekend, but "our telephone connections are still spotty, so email may be the best way to reach us."
"All of us on the Braddock team send out our condolences to the families of those who have lost their lives or those who suffered injuries from the storm, including two fatalities in the Braddock District. You and your families are in our thoughts and prayers," Cook said.
Cook said his house suffered minor damage, but he viewed significant damage to homes across the district. "We're here to help in whatever way we can," he said.
Springfield Clean-up
Like many neighborhoods throughout the county, sidewalks and roads in West Springfield neighborhoods were littered with broken limbs, branches and other debris.
Manuel Carara with Advanced Landscaping in Springfield said he worked for nearly 10 hours on Saturday hauling pieces of trees to trees to feed into the shredder.
"I've never seen so much damage from one storm," Carara said. "We've had dozens of calls since early this morning."
Since Friday's storm, Supervisor Pat Herrity (R-Springfield) has issued frequent storm updates in his blast e-newsletter The Herrity Report. On Monday, he sent out a list of updated road and municipal closings, as well as resources for residents.
"It is supposed to be hot today," Herrity said, "so please continue to check on your neighbors, and as always, our office is open to you should you need to get out of the heat."
Lorton: Ice-Cream and Jazz
Around 7 p.m. on Saturday, members of the Bonanno family were enjoying ice-cream at Sweet Frog Ice Cream Parlor at the Shoppes at Lorton Valley.
"Our power went out about 10:20 last night," said Kevin Bonanno. "We heard this terrible wind first, like a moaning sound. We live in a townhouse, and I thought 'Geez, are we going to get blown away? If the rain hadn't cooled things off, it would have been a sauna in the house."
Bonanno said there was a run on ice at the grocery store, but he had not encountered too many other problems
"All the fast-food restaurants were busy, but at least we're here together," Bonanno said.
At the Lorton Workhouse Arts Centre, the band Chopteeth Afrofrunk was getting ready to perform Saturday around 7:30 p.m. during Mount Vernon nights, a series of free concerts.
"We ready to chase away the stormy blues…" said sax player Mark Gilbert, looking up at the darkening skies, as a few drops of rain began to fall "…at least between this storm and the next one."