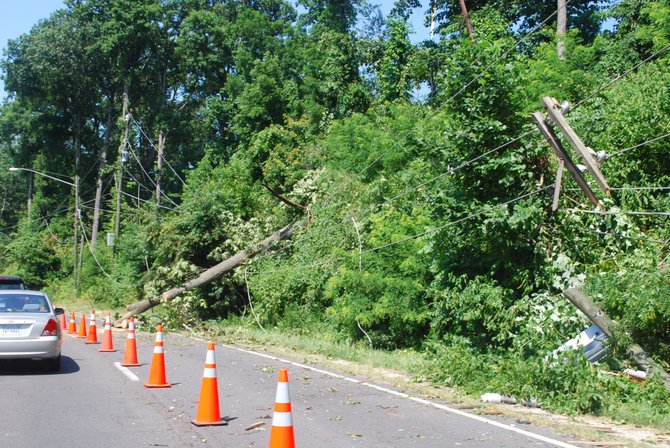 Following the aftermath of last night's surprise thunderstorms, many local residents woke up to significant amount of damage. Fallen trees and branches were spread across the area, and power outages were abundant. Wind speeds were reported near 80 MPH in various parts of Fairfax County last night, with the high temperatures aiding the storm. Virginia Governor, Bob McDonnell, declared a State of Emergency this morning, saying "This is the largest non-hurricane power outage in Virginia history. Virginians need to be on guard and to be working together ... and to find out where the shelters are."
As of 11 this morning, Dominion Power had reported over 435,000 homes with no power, with over 1.5 million homes without electricity in the D.C. Metropolitan Area. The brunt of the damage came in Springfield, Va., where two casualties had already been reported. One person was killed while driving at the intersection of Old Keene Mill Road and Bauer Drive, while another person also fell victim to the storm in Springfield when a tree fell on her home while she was sleeping.
Photo Gallery
June 29 Storm in Virginia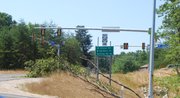 Photos by Amna Rehmatulla/The Connection
Click Photo for Flash
Many other essential needs for residents have been affected as well. In parts of Fairfax and Arlington County, emergency 911 services are out. Many other forms of communication, including cellular, land line and texting are intermittent. If you have an emergency, we ask that you go to your local police or fire station for assistance. Furthermore, many gas stations and grocery stores across the area have no power, limiting access to fuel and food for everyone. With temperatures expected to exceed 100 degrees for a second straight day today, the power outages will cause people to battle the heat without access to air conditioning.
More powerful storms are forecasted for Saturday and Sunday evening, thus providing no short term relief for the region. Residents are advised to take necessary and proper precautions to prepare for the potential of more severe damage over the next 24 to 48 hours.