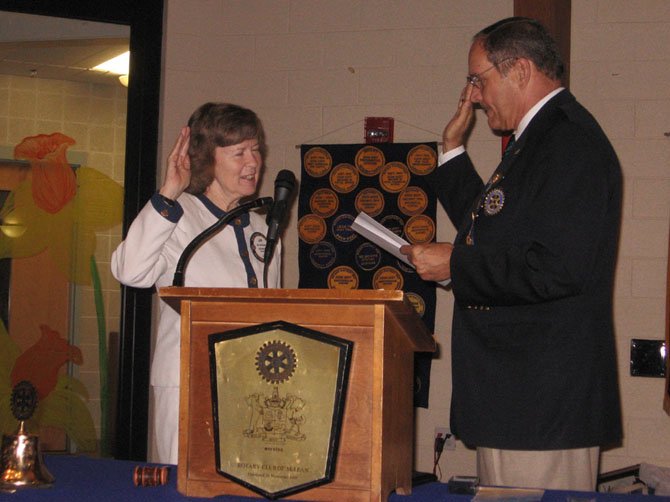 On July 11 the Rotary Club of McLean installed officers for the 2012-2013 fiscal year: Jan Auerbach--President, Mike Holleran--Vice-President, Dale Lazar--President-Elect, Lynn Heinrichs-- Treasurer, and Paul Sawtell--Secretary. Other members of the board include Immediate Past President Cherry Baumbusch, Sergeant-at-Arms Paul Ward, and Directors Kathy Martin, Steve Richardson, George Sachs, and Bob Nath. Steve Cook, Rotary District Governor, conducted the ceremony. Dranesville District Supervisor John Foust was in attendance, along with about 70 club members and spouses.
Outgoing President Cherry Baumbusch noted the club contributed over $20,000 in the past year to local and international charitable and educational organization, including Timber Lane Elementary School, Falls Church McLean Children's Center, Langley Residential Support Services, high school student scholarships, Homestretch, and Rotary's signature project to End Polio Now. Part of the funds were raised at the club's first annual Chocolate Festival which will occur again on Jan. 27, 2013 at McLean High School.
Jan Auerbach has been a member of the Rotary Club for two years. Previously, she served as Chair of the McLean Community Center Governing Board, President of the Safe Community Coalition, and Chair of the Education Committee for the McLean Citizens Association. Currently she also serves as Chair of the 50th anniversary celebration for the Literacy Council of Northern Virginia, for whom she also tutors four students in English.