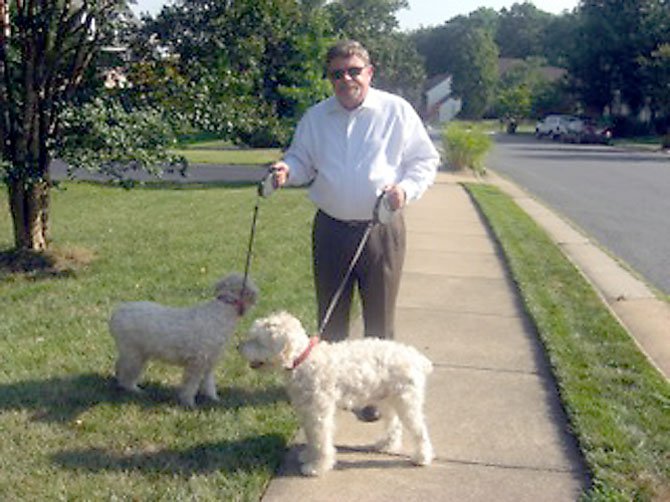 Above is Jeff Redman, a native of the Fairfax Station area with his two soft coated terriers, Buddy (age 11) and Annie (age 9). The three were united when his wife reached out to a family friend in Free Union, Va. who was interested in getting rid of some dogs. Within weeks, Annie and Buddy had become an everyday part of the Redman household. "Their personalities are complete opposites," said Redman. "Buddy is outgoing and extremely aggressive, whereas Annie is scared of her own shadow." Despite Annie's skittish nature she and Buddy enjoy sniffing grass around the local neighborhood and taking long walks with their owners.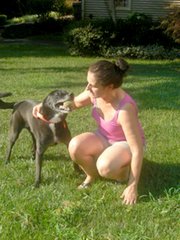 *Lorrie Joseph didn't foresee the six week old, lab hound mix as being too energetic upon meeting at the Alexandria Animal Shelter; however at age 8, Smokey is just as excited to play ball and be chased around the yard. "I would describe her as gregarious, and extremely hyper active," said Joseph. "She's very sociable and loves to play." Joseph's words were reinforced as Smokey pushed a tennis ball around their front lawn in Fairfax Station and galloped after it. The only thing that does deter this hound mix is tight corners. "She hates them," said Joseph. "She'll go out of her way to avoid tight spaces." Smokey continues to enjoy long runs and chasing anything that moves.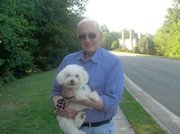 *A rather unpredictable pair, Honey and Don Keysar met at Christmas last year when his wife presented him the little Bichon with a smile. "Her first name is Honey, but her last name is Mogul," said Keysar. "The Chinese translation for devil." While Honey appears sweet on the outside, this 9-month-old cutie has a mean streak. "She's sweet about 99 percent of the time," said Keysar. "The other 1 percent she enters something called the 'Bichon Blitz', and runs non stop in concentric circles at least once a day." Bichons are known for their friendly dispositions in addition to their occasionally stir crazy personalities. Honey enjoys investigating undiscovered territory and staying close to Don.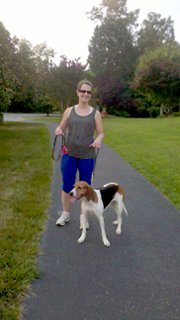 *Melodie Thomas met her first dog Kiwi (age 4), at the Alexandria Animal Shelter several years ago and immediately took her back to their Lorton residence. A rescue dog, Kiwi is quite intelligent and loves to play. "She's extremely smart," said Thomas. "She taught herself how to open the backdoor at our home when she wants to go out." After adopting Kiwi, Thomas and her husband were at the South Run Rec. Center when they spotted their soon to be newest addition to their home, Penny. "We saw her and fell in love," said Thomas. "Soon after that we adopted her." Although she's not quite as smart as Kiwi, Penny possesses a very kind disposition and enjoys the outdoors. "They're both really sweet," said Thomas. "We're lucky to have them."