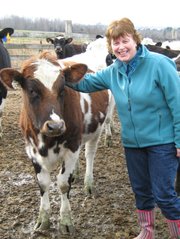 "And the cows meant it," the final line of "Only Cows Allowed," was the starting point for author Lynne Plourde. "It just popped into my head one day," she said. "The cows had some attitude."
Anyone who reads "Only Cows Allowed" can see the cows' attitude for themselves—their spunk is evident in the story and the accompanying artwork done by Rebecca Harrison Reed of Clifton. "I've always wanted to illustrate a humorous story about animals," said Reed. "And Lynne is a very humorous writer. An effective marriage of art and text makes it a success as a picture book."
And a success it was. On June 4, Reed will travel to New York City for the National Independent Publisher Book Awards, in which "Only Cows Allowed" earned the bronze award for all ages. And indeed, the book can be enjoyed by children as well as their parents.
"It's important when writing a book to consider how the reader feels," explained Plourde. "You need to tap into their emotions, and identify with them." The puns and word jokes run abundant in "Only Cows Allowed," making it the perfect book to read aloud to children.
Plourde's clever wordplay is only complemented by the facial expressions of the animals in Reed's drawings, based on the animals she observed in Herndon's Frying Pan Farm Park. In particular, the farm's jersey cow, Dandy. "She had a funny, unique personality, " Reed said. "All of the cows are somehow based on her."
"I could see how the trait's in her drawings reflected Dandy and the Park," said Nicole Falceto, a member of the Frying Pan Farm Park staff. She led Reed through the park and positioned the cows to help with Reed's observations. The experience there, according to Reed, was great fun. "I really got to know the animals—they completely lent themselves to the story."
Plourde's own experience with cows on her uncle's farm in Newport, Maine was part of the inspiration for her story. "He's crazy about his cows," she said with a laugh. "He might love them more than his wife!"
"Only Cows Allowed" takes place on a New England farm, displaying the influence these experiences had on her. "Just taking one good picture with those cows was nearly impossible; you can't control them, so you just keep smiling and wait for them to do it on their own time."
Whether they're in Newport, Maine or Herndon, cows have attitude. PLourde and Reed experienced this firsthand, and their collaborative story "Only Cows Allowed" is the perfect way to tell that tail.