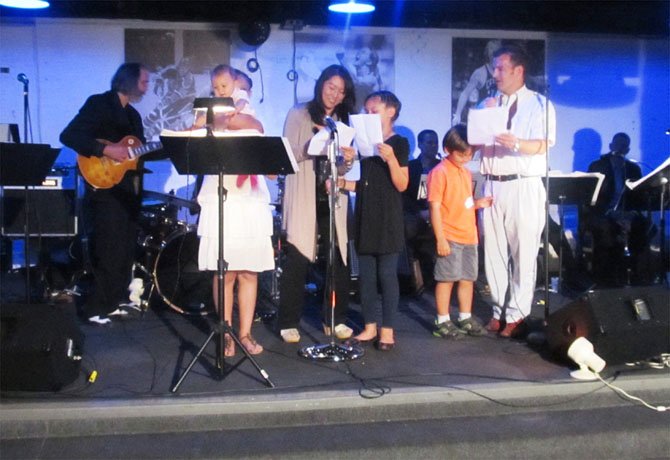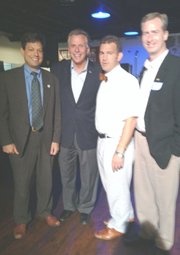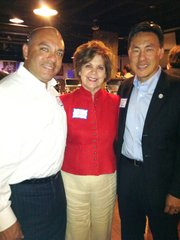 They weren't all young, and they weren't all lawyers, but they were most definitely all democrats at State Sen. Chap Petersen's annual "Young Lawyers" party held at ICONS in downtown Fairfax on Thursday, March 31.
Attended by Democratic power players, including likely gubernatorial candidate Terry McAuliffe, the yearly gathering is Petersen's primary fundraiser, thank you and entertainment for his supporters. McAuliffe, the former chairman of the Democratic National Committee who lives in McLean, introduced Petersen along with Petersen's law partner Del. Scott Surovell (D-44) and Del. David Bulova (D-37).
McAuliffe, who has said he will run for the Democrat nomination for Virginia next governor, as long as Sen. Mark Warner doesn't decide to run, hinted that Petersen should try again for the Lt. Governor's spot the last minute. Earlier this year, there was speculation that Petersen would run for governor in 2013. He said he seriously considered it, but ultimately voted no for many reasons.
"To run for public office, a lot of pieces must be in place: family, financial, professional and spiritual. A candidate must also have a vision which is congruent with the moment. Timing is everything," Petersen said.
When Petersen took the stage, he thanked his supporters and his family, and he spoke about his father, John Earle Petersen, who died on April 4, 2012.
"My father was my biggest champion. In his office, he kept all of my campaign posters," Petersen told the crowd. "I cannot say thank you enough to all the people who emailed, called or contacted me since the death of my father. He was a great father and, later in life, a great friend."