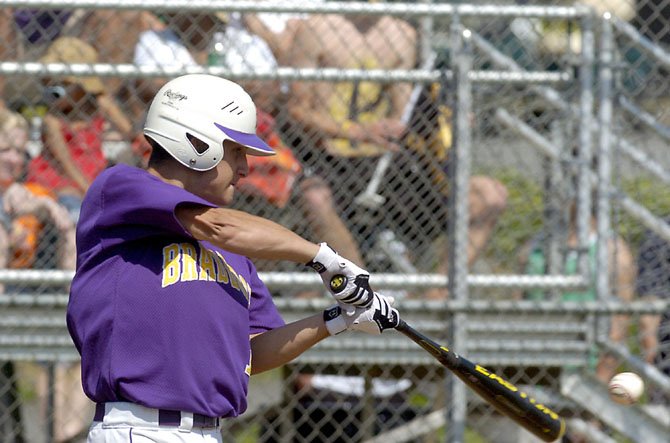 Chantilly — Lake Braddock junior Thomas Rogers is committed to the University of Georgia as a pitcher, but with the Bruins playing for a state championship on May 9, No. 1 showed he can swing the bat, as well.
Rogers smashed a solo home run to right-center field in the top of the third inning, giving Lake Braddock a 1-0 lead against Kellam in the Virginia AAA state baseball final. Rogers spent the rest of the afternoon using his prized left arm to ensure his long ball was the only run the Bruins would need. Rogers tossed a four-hit shutout as Lake Braddock captured the first baseball state championship in school history with a 4-0 victory at Westfield High School. The Bruins had also reached the state final in 1997, 1993 and 1988, but the 2012 team was the first to walk away a winner.
"It puts another banner in our gymnasium," Rogers said, "up there with [the school's other] state champions."
ROGERS STRUCK OUT 10, including seven called third strikes. He said the Bruins' scouting report on Kellam said to attack the Knights with inside fastballs. The plan worked as Rogers did not allow a Kellam runner to reach third base.
"He was on today. In his past two or three starts, including this one --- I've been playing with him since Little League --- that's the best I've ever seen him pitch."

— Lake Braddock catcher Garett Driscoll about Thomas Rogers
While Lake Braddock head coach Jody Rutherford credited Kellam southpaw Mitch Moynihan with pitching a good game, Lake Braddock's lefty was better.
"[Moynihan] did a hell of a job. Thomas just stepped it up after that … first inning and said, listen, I'm a pretty good pitcher, too," Rutherford said. "[He] pounded them inside with the fastball a couple times, got some strikeouts looking and once we see Thomas throw like that, everybody knows we're good to go."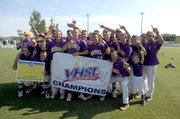 Junior catcher Garett Driscoll said Rogers was at his best toward the end of the season.
"He was on today," Driscoll said. "In his past two or three starts, including this one --- I've been playing with him since Little League --- that's the best I've ever seen him pitch."
Driscoll extended Lake Braddock's lead to 2-0 in the third inning when he smacked a run-scoring double off the fence in left-center field. Senior left fielder Dylan O'Connor delivered an RBI double in the seventh. Senior second baseman Matt Spruill (double) and junior third baseman Alex Lewis (single) also had hits for the Bruins.
The previous day, Northern Region Pitcher of the Year Michael Church started his final game for Lake Braddock and earned a win, throwing a complete game during a 7-4 victory against C.D. Hylton in the semifinals at Westfield. Lake Braddock's run through the state tournament, which included a 9-0 victory at Cosby during the quarterfinals on June 5, came after the Bruins were upset by West Springfield, 3-2, in nine innings in the Northern Region championship game.
"To be honest, I think it was a good time to lose," Church said after the Bruins' state semifinal victory. "We were still in the [state] tournament, and in the past we've lost and then [responded by winning] a good amount of games. It was probably the perfect time to lose."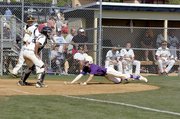 LAKE BRADDOCK will graduate seniors Church, O'Connor, Spruill and outfielders Chris Granito, Chuck Feola and Nathan Parker, but will return the majority its players in 2013, including all-region junior center fielder Alex Gransback, sophomore shortstop Jack Owens and freshman pitcher Matt Supko.
Lake Braddock posted a 26-3 record and won the Patriot District championship in 2012. The Bruins started 9-0 before losing to McLean on April 3. Lake Braddock finished the season ranked No. 42 nationally in the ESPN.com FAB 50 and was the only team from the Washington, D.C.-metro area to be ranked.
Driscoll credited Rutherford with getting the most out of the Bruins' talented roster.
"He's probably one of the best coaches I've ever had if not the [best]," Driscoll said. "He pushed us to our max."
For Rutherford, who took over as head coach in 2002 and has been with the program since 1998, winning the state championship helped solidify an already successful career.
"I would be a liar if I said, no, I didn't need [a state title]," Rutherford said. "… This is what I've worked for. In my coaching career, as good as we've been and as successful as we've [been], not to be able to accomplish this, [would have been] kind of the open puzzle; it's like the quarterback without the Super Bowl."