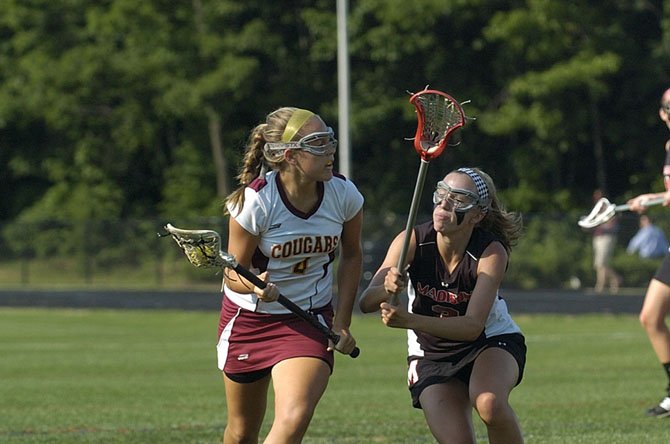 Vienna — The Oakton High girls' lacrosse team, along with being talented and experienced, is also playing at a high level at the right time of the spring season with the start of the postseason set to begin this Friday night with opening round games of the six-team Concorde District tournament.
Oakton (9-2), under head Coach Jean Counts, concluded the regular season this past Monday night, April 30 with a 22-6 Concorde District home win over Robinson. Last week, the Cougars played and won three games - a 20-9 district win at Herndon on Tuesday, April 24; an 18-11 Senior Night home win over non-Northern Region opponent Woodgrove High (Loudoun County)on Wednesday, April 25; and a 17-12 district road win at Westfield on Friday, April 27.
The district tournament schedule will consist of quarterfinals round games on Friday. Next Tuesday night, May 8, Oakton will host a district semifinals game at 7. The district title game is scheduled to be played at 5:30 next Friday evening, May 11 at Chantilly High School.
"Our team has been playing well, led by an experienced senior class," said Counts, the team's head coach. "We have had some tough games but have been competitive."
Oakton, which enters the postseason with a five-game win streak, has lost just two games - a 19-6 setback to private school power Georgetown Visitation (Independent School League) in the Cougars' fourth game of the season back on March 26, and a down-to-the-wire 14-13 defeat at the hands of visiting district opponent Centreville High on April 13.
IN DISTRICT PLAY, Oakton was 4-1 this spring with the wins coming at Chantilly 22-15, on April 20, and the more recent wins over Herndon, Westfield, and Robinson.
Early in the season, Oakton won non-district games over Northern Region opponents Lake Braddock (Patriot District), 20-8, and Langley (Liberty District), 13-10.
Counts said her team has been playing particularly well in recent weeks.
"I feel that we are getting geared up and are preparing well for the post season," she said. "Our district is very solid and every game is a challenge. We have plenty to work on but are finding more consistency and rely on each other more each day that passes."
Ultimately, good team play is the biggest factor to success in the postseason. A year ago, the Cougars played outstanding team lacrosse on way to winning the district tournament title and reaching both the region and state title games where they lost to Madison. Oakton went 8-2 in the 2011 postseason. It defeated Chantilly High in the district championship game.
This year's Oakton squad has also excelled in its team concept mentality. The Cougars' top players, all of whom have play within that team-first mindset, have been Carly Palmucci, Jackie Rupp, Alex Revel, Kelsey Clarke, and Allison Turk.
Senior Emily George has played exceptionally well at the goalie position and the Cougars' defense, a relatively young group, has done a good job in front of her.