The final score was lopsided and the Churchill boys' lacrosse team remained undefeated, but when it comes to facing fellow Montgomery County public school programs, Thursday's rivalry matchup with the Wootton Patriots was likely the toughest test the Bulldogs will encounter as they march toward the postseason.
Four different Bulldogs scored at least three goals and Churchill defeated Wootton 19-10 on April 21 in Potomac.
Churchill led by as many as 11 goals in the first half. Wootton chipped away at the lead and trailed 16-10 entering the fourth quarter, but the Bulldogs scored the final three goals of the evening.
The victory improved Churchill's record to 10­0. In seven games against in-county public school programs, the Bulldogs have outscored their opponents 125-27.
Is it difficult to stay motivated while blowing out opponents?
"It's hard," sophomore midfielder and Brown University commit Reed Moshyedi said. "It's definitely hard, but we train in practice and we get it done."
Wootton fell to 6-4, but was the first county team to produce a double-digit goal total against Churchill.
Wootton won six consecutive region championships from 2006-2011. Churchill has won three of the last four, falling short to Wootton in the 2014 region final.
"A rivalry game is a rivalry game," senior midfielder Austin Laborwit said. "No matter what happens before or no matter what anyone says, both teams want to bring it — you can never expect anything."
For Churchill, Thursday's game offered the chance for some rare regular-season resistance from an opponent as the Bulldogs try to improve during their quest to become the first Montgomery County program to win a state championship.
"We just try to get better each and every today," Churchill head coach Jeff Fritz said. "Wootton's a good team and we knew we had some matchups tonight that we really wanted to see how good our guys were. Wootton has a very good attack unit and our defensemen got challenged tonight for the first time in quite a while and we were looking forward to that."
Joe Montesano led Wootton with five goals.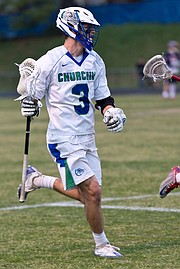 The Churchill defense limited Wootton to two goals during the first 22 minutes of the contest. At the other end, the Bulldog attack showed its versatility.
Eight different Churchill players scored at least one goal, and four Bulldogs scored at least three goals. Senior attackman Chris Higgins and junior attackman Spencer Knife each scored four goals for Churchill, while sophomore midfielders Brady Altobello and Moshyedi each scored three.
Knife also had three assists.
"Spencer's just a playmaker," Fritz said about the Towson commit. "He brings a lot of energy to the team. He's so smooth and cool and calm and collected. Reed is the same way. ... Reed's our go-to guy. He does it all."
Sophomore defenseman Jimmy Rubino scored two goals, and Laborwit, senior midfielder Ryan Sorkin and sophomore attackman Ryan Leonard each had one.
Leonard also had two assists.
One reason for the balanced attack was the 2015 graduation of playmaker Louis Dubick, who is now a freshman on the University of Maryland men's team. Dubick re­wrote the state record book, becoming the Maryland high school all-time leader in goals, assists and total points, and his teammates often relied upon him to get the job done.
"We were joking about that coming into the season: we were happy to see other guys contribute," Fritz said. "Last year, a lot of times people would just watch [Dubick] go. It was nice to get other people involved and we have six guys that can score — maybe even seven or eight. It's nice to spread it around — we're a little harder to defend that way."
Laborwit (Trinity College) reached a career milestone during the game, setting the program record for faceoffs won. He finished the night winning 19 of 28, giving him 478 for his career. Steven Stillwell, a 2014 Churchill graduate and a sophomore on the Towson University men's team, previously held the record with 459.
"It's a record we didn't think was going to get broken," Fritz said. "For him to break it, I'm just really, really happy for him. He's put all the work into it and he's helped teach other guys on the team. ... He's a great team player. He does everything he can to make our program better."
Churchill's next game is a home contest against Northwest at 7:15 p.m. on Wednesday, April 27. Wootton, which improved to 7-4 with a 15-13 win over Magruder on April 25, will travel to face Sherwood at 7:15 p.m. on Friday, April 29.
Churchill reached the state championship game last season but lost to Howard, 14-6. This year, the Bulldogs are focused on making history.
"[Winning a state championship has] been our goal for the past couple years," Moshyedi said. "We got close [last year]; that's all we want to do. We don't care about regional championships anymore; we're [going for] the big one. Right now, we want to win states."