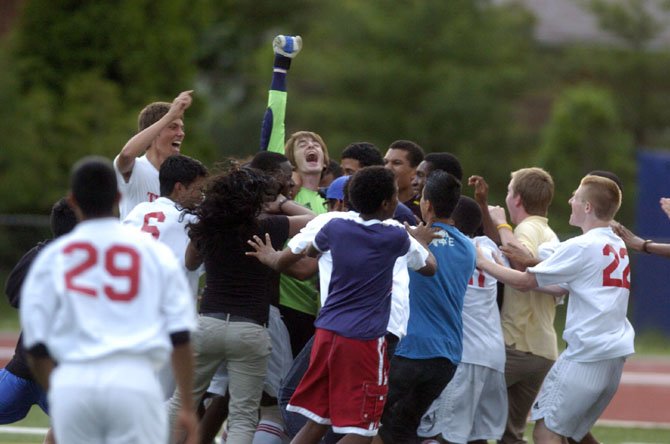 Alexandria — T.C. Williams goalkeeper Nick Braun hoped it wouldn't come to this, but here he was, facing fire between the pipes with the Titans' season on the line.
The T.C. Williams boys' soccer team was locked in a 1-all tie with Stuart after 80 minutes of regulation time and four five-minute overtime periods. It was the opening round of the Northern Region tournament on May 22 at Parker-Gray Stadium and the match would be decided by penalty kicks.
TC came up empty on its first try and Stuart quickly followed with a successful attempt, putting the Titans in a hole in the best-of-five shootout. TC's Alex Mansaray evened the score with a goal before Stuart's Griffith Miles stepped up with a chance to put the Raiders back in front. That's when Braun noticed the Stuart striker focusing a little too intently to the goalie's left side. Figuring Santos was trying to fool him, Braun dove to his right as Miles fired a shot.
Boom! Braun came up with a save, keeping the shootout even at 1-all.
TC's Abdel Al Nimiry connected on his ensuing attempt, putting the pressure on Stuart's Luke Richardson to counter. Once again, Braun picked up on a Raider striker focusing too much on one side of the net. This time, Braun dove to his left.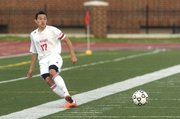 Thud! Another save. This time, the Titans gained control of the shootout and they wouldn't let go.
Mauricio Salvatierra found the net on the Titans' fourth attempt and senior co-captain Kelvin Marin-Solis put home the game-winner as T.C. Williams defeated Stuart, 1-1 (4-2), to advance to the regional quarterfinals.
Braun raised his right arm in triumph as Titan fans rushed the field in celebration.
"I feel ecstatic because the entire game I thought, 'Oh please don't let us go to penalty kicks, please don't let us go to penalty kicks,' because that's the most nervous part for the players and for me, obviously," Braun said. "… I don't like to guess [where an opponent is aiming during a penalty kick], but I see a lot of them, they'll look to one corner and if they make it really obvious, then I know that's not where they're going, so I'll [go the other way]. That happened twice. Those were the two saves."
Braun's effort helped the Titans avoid an upset. TC, the No. 1 seed from the Patriot District, created chances during regulation but came up empty until Mansaray scored on a corner kick from Manuel Benites in the 63rd minute. The Titans didn't hold the lead for long, however, as Stuart, the No. 4 seed from the National District, tied the score with a goal in the 72nd minute.
"That's incredible. He was like a goalie I've never seen in my life. That was great. That was a great game and then he saved us."

— T.C. Williams forward Alex Mansaray about goalkeeper Nick Braun
After the teams failed to score in four five-minute overtime periods, the game went to penalty kicks. Stuart quickly put the pressure on Braun and the Titans as the Raiders took a 1-0 lead after each team had one attempt in the shootout. From there, Braun's consecutive saves propelled TC to victory.
"For him to come up with those saves is indicative of the hard work that he does," TC head coach Martin Nickley said. "… To be able to make two back-to-back saves like that, get us back into the thing, it's huge."
Mansaray spoke highly of Braun's effort.
"That's incredible," Mansaray said. "He was like a goalie I've never seen in my life. That was great. That was a great game and then he saved us."
Nickley said he already knew which five players he would select in case of a shootout. Four of the five Titans converted their PKs, including Marin-Solis, who was put in a position to win the game in the No. 5 spot.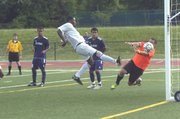 "I guess that's the reason why they call me captain," he said. "They knew I was going to step up to these clutch situations. I was expecting [a difficult match] — I wasn't expecting it this early [in the regional tournament] — but thank God it came out the way we wanted it."
Marin-Solis said he knew all along he would shoot to his left.
"Never second-guessed it, never hesitated at all," he said. "I already knew I was going that way."
Braun, Marin-Solis and Nickley shared their appreciation for the enthusiasm of the Titan fans.
"There could not have been a better sight," Braun said, "than to see the entire bleachers filled with people cheering."
The win came four days after TC defeated Lake Braddock, 2-1, in the Patriot District tournament championship game on May 18 at South County Secondary School. The Titans captured the program's first district title since 2008.
"Winning that district championship is huge," Nickley said. "You can have a tremendous season … but it's so difficult to win that championship and to go through those three matches there and to take that, so this team has certainly set themselves in an elite group."
TC will host Langley, the No. 2 seed from the Liberty District, at 5 p.m. on Thursday, May 24 in the regional quarterfinals.