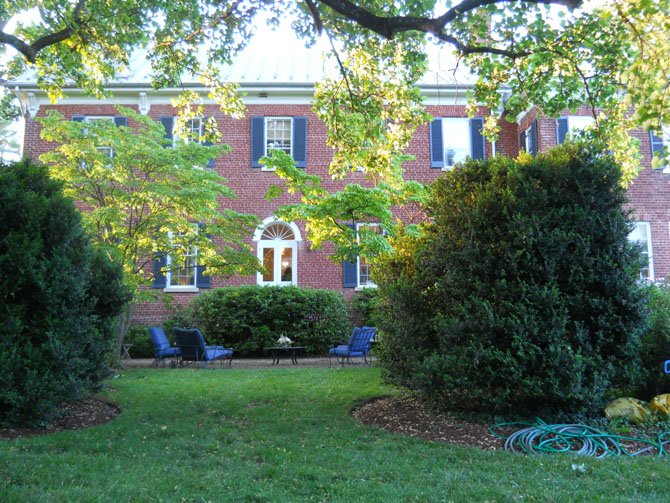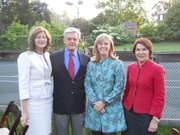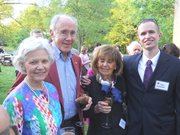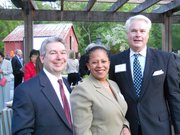 What better place to celebrate fifty years of art in McLean than the community's most historic landmark? On May 10, artists, art supporters, local politicians, staff and volunteers of the McLean Project for the Arts gathered on a clear cool evening at Salona, the historic McLean home of Karen and Dan DuVal.
Karen DuVal, who is also President of the MPA, and her husband received nearly 400 guests at the elegant estate, which was set up for dining, dancing, garden tours and just plain celebration.
Supporters and those involved with the organization spoke of the MPA's humble beginnings fifty years ago. Nancy Bradley, the only surviving founder of the MPA, was in attendance. "I remember the days when we started this thing," she said. "We had a membership drive. People paid $10 a year to be a member. We tried to raise $100 a month to pay our rent. We would take turns having luncheons. Anything to come up with $100 a month to pay that rent. And just to have all these people here…" she said, "it's just incredible."
The organization started as a small gallery on Emerson Street in McLean in 1962. It moved a total of ten times before finally finding its permanent and current location above the McLean Community Center. Its exhibitions feature the works of contemporary artists from the mid-Atlantic region throughout the year, and it reaches out to nearly 3,000 children each year from at-risk schools.
"I grew up in McLean," said attendee, Patricia Tetro. "I went to Cooper and Langley. MPA has been around the entire time. So it's been very interesting to see how established it's become. There's some real gravitas to what they do at MPA."
Karen DuVal in her welcoming remarks said, "We at MPA are very proud that we have the support of all of our political leaders, regardless of what side of the aisle they happen to occupy." Special guests including Margaret Vanderhye, Barbara Comstock, John Foust, and Jim Moran, among others, attended this year's spring benefit.
Following dinner, guests were invited to watch the newly produced video about the McLean Project for the Arts. Nancy Sausser, current curator for the MPA, said in the film "art is kind of the elemental part of ourselves that expresses who we are and what our societies and civilizations are about. It's illusive and endlessly fascinating."