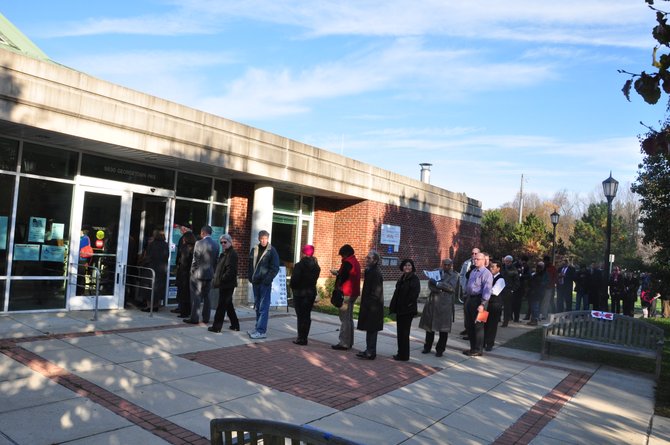 While voter turnout in Fairfax County on Election Day was at an all-time high—80.5 percent of registered voters cast their ballots, compared to 78.7 percent in 2008—some voters faced long lines and endured hours of waiting on a chilly day to cast their ballots.
Lines and wait-times varied throughout the County's 237 precincts. Voters at Vienna's Flint Hill Elementary School reported ample parking and virtually no lines. At other locations however, lines snaked around elementary school parking lots and through buildings, and it was not unusual for voters to have an hour-long wait.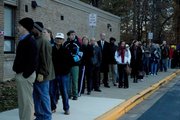 Long wait times and other voting-day issues concerned Board of Supervisors Chairman Sharon Bulova (D-at-large), who called for the creation of a bi-partisan commission to explore any inefficiency and analyze ways to streamline the process.
"While altogether the day went well, I think it would be beneficial to examine what lessons we can learn from the 2012 Election," Bulova said on Wednesday, adding that she waited only 20 minutes at Villa precinct Tuesday morning to vote.

"I plan to present this issue to the Board of Supervisors at our next meeting and suggest the formation of a bi-partisan commission to identify ways to reduce lines, decrease wait times and streamline our election process," she said. The next Board of Supervisors meeting takes place on Tuesday, Nov. 20.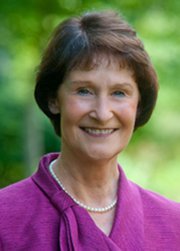 She said the commission will review and make recommendations regarding Fairfax County's election process. "The commission will be asked to concentrate on ways to improve the County's efficiency on Election Day, with a specific focus on addressing wait times, long lines, and other voting issues," Bulova said.
ELECTIONS OFFICIALS said a shortage of poll volunteers coupled with complicated ballot questions, bond issues and confusion over County-wide redistricting meant some voters took much longer to finish their ballots.
At the Bailey's Crossroads precinct, where it had been reported that some voters waited for more than three hours, Cameron Quinn, the County's chief election official, said further investigation last week showed the last voter at the Skyline precinct voted at 9:30 p.m., according to the time stamp on the voting equipment. Polls closed at 7 p.m., so any voters arriving at 7 p.m. waited more than two hours before casting their ballots.
Some voters complained the County did not provide enough high-tech touchscreen voting equipment, preferred by 80 percent of voters over paper or optically-scanned ballots. According to election officials, there were between two and five touchscreens in every precinct this year, depending on the number of voters assigned to each precinct. Additionally, each precinct had one or two optical scan machines, and paper ballots for a projected 80 percent voter turnout.
"Rovers, who are in the field on Election Day to assist precinct officials with problems, also carry several spare machines in case of breakdowns. A number of these were rushed to precincts to prevent lines from building up too much when machines were down," Quinn said.
ONE OF THE KEY REASONS for some of the long waits was the lack of precinct volunteers, Quinn said.
"This is a longstanding issue that has become more acute across the entire country over the past decade, particularly in large urban and suburban areas," Quinn said. "Despite the County executive's extraordinary request to all County employees to sign up, using County administrative leave, to work for Election Day, there were relatively few additional officers resulting from that request."
"Given the extraordinary voter turnout, things went fairly smoothly on Election Day," Quinn said. "There were some precincts that had issues and problems, but no more than any presidential election, and smoother than anticipated, given the challenges as a result of Hurricane Sandy and the recent redistricting." While long lines created headaches for some Fairfax County voters, it was much worse in other parts of the state. In Prince William County, some voters faced five-hour waits before casting their ballots.
"Asking anyone to wait several hours is unacceptable," Virginia Democratic Party Chairman Brian Moran said in a statement Wednesday. "Why did it go so poorly this year and why were these long lines experienced? We're going to be a battleground state, so ultimately we don't want this to happen again. Let's take the proper steps. Let's fix it."