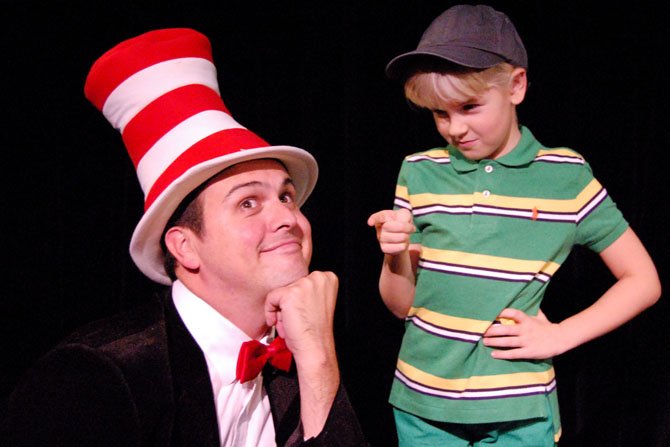 Casting is complete for "Seussical," a fantastical, magical, musical extravaganza that brings to life all of the favorite Dr. Seuss characters from a host of the author's most popular books.
Svea Johnson and Simon Diesenhaus will share the role of JoJo, a child from the land of Whoville who gets in trouble for thinking too many "thinks." Both young actors are making their Imagination Stage debut. Svea recently portrayed Gretl in Olney Theatre Center's "The Sound of Music," and was a member of the children's chorus in the Damascus Theatre Company's "Joseph and the Amazing Technicolor Dreamcoat." Simon is making his professional debut, havingperformed in numerous productions at Musical Theater Center and the French Woods Festival, including the musical "Nine."
Matt Anderson plays Horton the Elephant. Anderson has been seen at Imagination Stage in "Busytown" and "Miss Nelson Is Missing," and most recently performed in "1776" at Ford's Theatre. Newcomer Shayna Blass will fly into the role of Gertrude McFuzz. Shayna recently graduated from American University with a BA in Musical Theatre and has previously performed with Keegan Theatre. Playing Mayzie will be Kirstin Riegler. Kirstin will also be making her Imagination Stage debut and has previously acted at Signature Theatre and Toby's Dinner Theatre. Ayana Hardy will be Sour Kangaroo. Ayana was seen at Imagination Stage in "The Dancing Princesses." Jamie Smithson brings the Cat in the Hat to life. A newcomer to the area, Jamie has previously performed at the Guthrie Theatre and Charleston Stage Company. The cast is rounded out by Matthew Delorenzo (Wickersham Brother), Marieke Georgiadis (Bird Girl), Jamie Ogden (BirdGirl/Mayor's Wife), Matthew Schleigh (Mayor), and Chris Wilson (Wickersham Brother).
Seussical
Based on the works of Dr. Seuss; Music by Stephen Flaherty; Lyrics by Lynn Ahrens; Book by Lynn Ahrens and Stephen Flaherty; Co-conceived by Lynn Ahrens, Stephen Flaherty, and Eric Idle; Directed by Janet Stanford.
Nov. 14, 2012-Jan. 6, 2013
Show Schedule:
Public performances on Saturdays and Sundays at 1:30 and 4 p.m.
Tuesday-Friday are field trip performances.
Friday night performance on Nov. 30 at 7 p.m.
Tickets: $12-$25; best for ages 4-12
Special Opportunities:
$10 preview performance (most seats) on Nov. 17at 1:30 pm and 4:00 pm
ASL interpreted performance: December 2 at 4 pm
Purchase onstage seating — call the box office at 301-280-1660.
Imagination Stage is located at 4908 Auburn Avenue, Bethesda. Metered parking in the adjacent public parking garage; parking is free on weekends.
Call 301-280-1660 or visit www.imaginationst....
Seussical was previously performed at Imagination Stage in 2005. However, this new production will turn audience members into the residents of Whoville. In Seussical, the Cat in the Hat tells the story of Horton, an elephant that discovers a speck of dust containing a village of Whos. Horton faces a double challenge – not only must he protect the Whos from a world of naysayers and dangers, but he must guard an abandoned egg left to his care by the irresponsible Mayzie La Bird. Although Horton faces ridicule, danger, kidnapping, and a trial, the intrepid Gertrude McFuzz never loses faith in him. Some of the characters fall in love, some have desperate adventures, and some even save the world. Ultimately, the powers of friendship, loyalty, family, and community are challenged and emerge triumphant.
The remainder of the creative team includes Music Director George Fulginiti-Shakar, Set Designer Tom Donahue, Costume Designer Frank Labovitz, Lighting Designer Catherine Girardi, and Sound Designer Christopher Baine.
Seussical runs in Imagination Stage's Annette M. and Theodore N. Lerner Family Theatre Nov. 14, 2012, through Jan. 6, 2013. Best for ages 4-12, tickets are $12 to $25,and may be purchased online at www.imaginationstage.org, at the Imagination Stage box office, or via phone at 301-280-1660. Group rates are available.