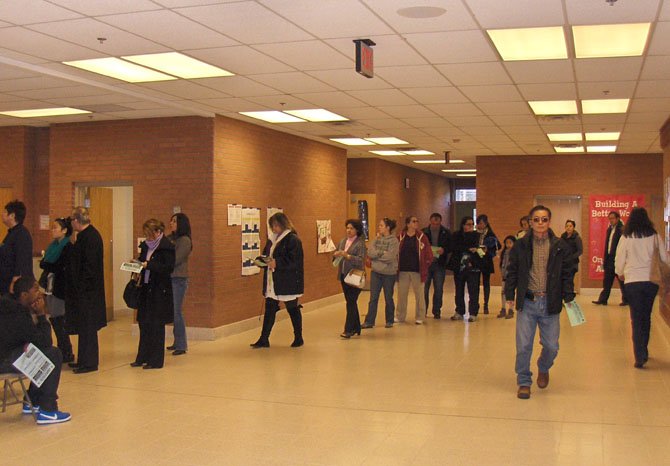 Centreville — Tuesday's weather was cold, but sunny, and people in the local community turned out in droves to vote in the presidential election. At Colin Powell Elementary, the line to vote was steady.
Outside the school, Diana Rhodes of Centreville's Walney Glen community, represented the Sully District Democratic Committee. She and Kolleen Martin and Robinson Secondary senior Haley Roberson handed out sample ballots, as did Sully Republican representatives.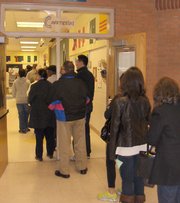 "We had a good turnout, especially in the morning," said Rhodes. Added Martin: "At 6 a.m., there was a one- to two-hour wait."
Around 2:15 p.m., voters just had a 20-minute wait there, but business had been brisk. "We opened at 6 a.m. and, by 10 a.m., 891 people had voted," said Centreville High senior Sabrine Ahmed-Iqbal, working there as an election page.
"I've been greeting people inside the school, directing them to the polling place and answering questions about the bond issue and constitutional amendment," she said. "I've also assisted elderly and disabled voters. I always volunteer on elections. My mom did it since I was 8 years old, and I'd tag along with her. Now, I do it, too, and she still does."
Although the voters didn't want to divulge for whom they were voting, they were willing to share what issues they believed were the most important in this election. They ranged from health care to the economy to energy to employment.
Carl Parker of Centreville's Sully Station community said the "regulation of banking and lending practices is really important because they have a direct impact on many people. And playing Yahtzee with people's 401K accounts isn't nice. They've worked hard for that money."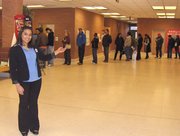 "You need leaders to care about the people who saved all that money — and, fundamentally, about the people. Everybody contributes to the work of the economy, whether they do physical or mental work, and certain basic things should be protected. There should be more sagacious ways of protecting the common interest."
Debbie Dailey of the Centreville Farms community said she's in favor of more employment and cheaper health care, adding, "I'm just ready for a big change."
Brian and Olya Morgan, who live in Centreville's Englewood Mews community, also shared their views. "I want more green and clean energy and less dependence on oil," said Brian. Wife Olya said, "We definitely need health-care reform." She said the reforms President Obama put in place "may not be perfect, but we've got to start somewhere."
Meanwhile, Deepak Surana of Centreville's Sully Manor community, said employment is one of his priorities. "I think everybody should be able to get a job," he said. Surana also believes in strong national security and international peace. Pleased with the current state of affairs, he said, "We need to keep going in that direction."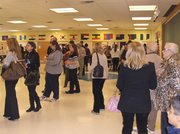 Kristina Jung of Centreville's Faircrest community said it's important that everyone eligible to vote do so. "It's a civic responsibility," she said. Regarding the issues, she said, "I'm a nurse, so health care is important to me. And I want the economy to turn around."