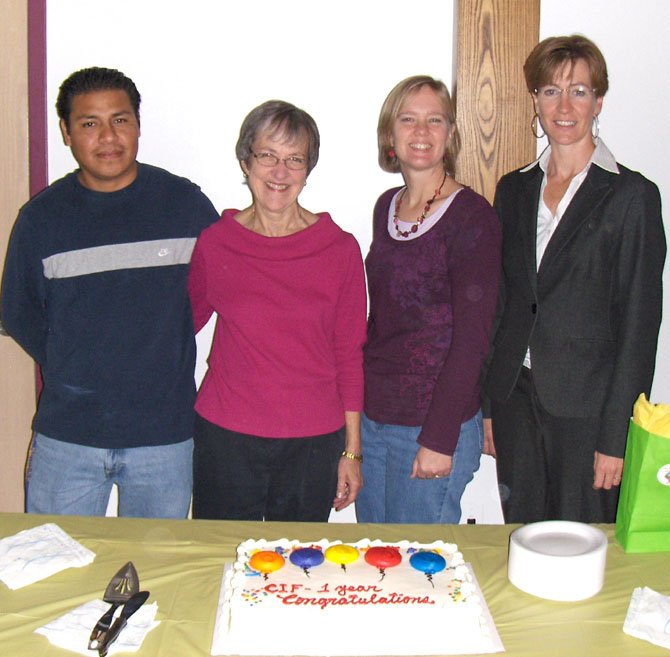 Centreville — For the past year, Shani Moser has been using her Spanish-language expertise in her position as director of the Centreville Labor Resource Center (CLRC). Since the majority of the day laborers there are Hispanic, her fluency proved an invaluable asset.
But she's now left that job and, as of Monday, Oct. 1, she's using her Spanish-language skills to teach students at Madison High in Vienna. She's taught Spanish previously at several grade levels so, for her, it's a return to the classroom.
Meanwhile, Molly Maddra, the center's coordinator/organizer, will be the interim director, aided by several part-time staff members and volunteers. And Alice Foltz, president of the Centreville Immigration Forum (CIF), responsible for the center's daily operations, assures the community that, while a new director is sought, the center will continue to be fully operational.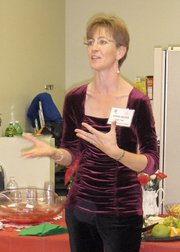 "Shani created a strong set of procedures and created a good atmosphere within the center, and her style of warm welcome to all, and efficient services to workers and to employers, will continue," said Foltz. "Transitions like this are never easy for the staff and volunteers left behind, but we will continue to carry out our mission to the community and to the day laborers."
Still, she's sad to see Moser go, but understands why she left. Madison is close to Moser's home in Vienna; and when the principal asked if she'd take over a job vacated by a Spanish teacher there at the beginning of the school year, it was difficult for her to pass up the opportunity. Said Foltz: "The geography and the needs of her young children made it very compelling."
Moser has a daughter, Kana, almost 11, and a son, Corey, 8, and has spent much of her life helping the Hispanic community. "I'm still a friend of my first-year, high-school Spanish teacher," she said. "My great teachers instilled in me a passion for the language because I realized it could open up whole, new worlds."
Once she accepted the job at Madison, things moved quickly. The principal wanted her to start immediately, so last Tuesday, Sept. 25, Moser tendered her resignation to the CIF board, which accepted it with "great regret." Then the tasks at the center were reorganized so the regular volunteers and part-time staff members could step in and carry them out.
The change is also bittersweet for Moser, who's been the center director since Oct. 24, 2011. "I am going to terribly miss working with the very special individuals at the CLRC," she said. "This past week, with the rapid changes, has been filled with a roller coaster of emotions and a lot of tears."
"I am honored to have been such a key part of this community hub that brought so many disparate civic groups, institutions of faith and individuals together to work for the same cause," she continued. "I loved meeting all of the different employers and helping them to be best matched with workers who could fit their needs."
The center provides a safe place for employers, including homeowners, to meet workers seeking temporary labor. Its staff hopes to eventually eliminate all "dangerous and unlawful" hiring from the streets. The CLRC also provides workers with opportunities for education and training and offers a computer lab for the workers. During Moser's tenure as director, more than 350 workers and more than 300 employers met there.
"I'm very proud of several accomplishments; however that which stands out most in my mind is the development of the value of volunteerism," she said. "The idea of volunteerism and community engagement isn't necessarily a cross-cultural value, and it warmed my heart to be a part of workers' growth in their sense of community."
The center's workers maintain regular Adopt-a-Highway cleanups, serve on the CIF Board and give their opinions and vote on the CLRC's Code of Conduct and Work Distribution Rules as members of its general assembly. Moser also noted that, when the workers see that most of the people who help with the center's operations are volunteers, it "makes a very deep impression on them."
More Information
The CIF's annual meeting will be Tuesday, Oct. 23, at 7:30 p.m., at Mount Olive Baptist Church, 6600 Old Centreville Road in Centreville. At that time, Shani Moser will present her annual report on the center's operations.
During October, the CIF is conducting a search for a new director, and those interested should email the board at afoltzva@verizon.net.
The center's continuing projects for fall include ESL classes scheduled during regular operating hours, Monday-Saturday, 6 a.m.-noon, plus weekly evening classes in trade skills, such as electricity and dry wall.
The CLRC is the only labor center for temporary workers in Fairfax County. It's also the only one in the mid-Atlantic region that's fully privately funded.
For more information about CIF or to donate to this nonprofit group, see www.centrevilleim...; to hire a worker or volunteer, call the center at 703-543-6272 or go to www.centrevillelr....
"They start to realize that time is just as valuable as money, and to give oneself through time is a valuable contribution to society," she said. "Those who participate in the CLRC are willing to work for more than simply a day's worth of pay; they're willing to work to make the CLRC a functioning community organization."
And even though she's moving on, Moser said she's hopeful that the contractors and homeowners who continue to hire workers from the street "will discover a new, better and safer way of hiring their temporary labor by coming to the CLRC."
"It will only be when those hiring individuals cease in their practice of unlawful street-side hiring, that those workers who remain on the street will learn that they can no longer get work there and they will come to the CLRC," she said. "The education of those who continue street-side hiring practices must fall on our shoulders as a community."
Moser also had a special message to the CIF board. "It has been a true honor to work with so many wonderful people during my time as director," she said. "Thank you for the faith and the trust you put in me and in the CLRC. I have high hopes for the future of the CLRC, and I look forward to following the progress."