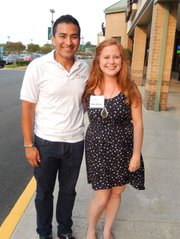 Before the CLRC opened in the Centreville Square Shopping Center, day laborers stood on the nearby street corners and outside the Centreville Regional Library and employers hired them from there. But many didn't get work and, often, some who did were cheated out of their wages by employers refusing to pay them after the job was done.
The situation led to tension in the local community. Store owners said the men's presence discouraged customers from patronizing their businesses. And some mothers felt uneasy bringing their children to a library with men standing outside.
But once the CIF was established to help these mainly Guatemalan immigrants, things changed slowly, but surely. Members made contact with the workers, directed them to social services that could help them and their families, and connected them to churches offering English-language classes. But they were still hired from the streets.
Then in early 2010, Al Dwoskin, owner of the Centreville Square Shopping Center, proposed the idea for a worker center. He later donated one of his storefronts for it and agreed to pay for utilities if the CIF would run it.
So the CIF began fund-raising and solicited grants and donations to hire a director and an assistant. It also invited the laborers to its planning meetings, had them develop the center's rules and regulations and made sure they were an integral part of the new facility so they'd actually use it.
CLRC Director Shani Moser and Coordinator Molly Maddra were hired, workers learned each other's trades and employers began hiring them directly from the center, which opened in December 2011. Current Director Roberto Fernández later replaced Moser, who left to become a high-school Spanish teacher, and the center continued to thrive.
According to the CLRC's 2014 mid-year report, the center now serves more than 600 long-time and newly registered workers and more than 700 employers at 5956 Centreville Crest Lane in Centreville. It's open daily, 6 a.m-noon; phone 703-543-6272 or see www.centrevillelrc.org.
Nearly 100 volunteers support the staff in a variety of programs. The center also helps with worker-employer negotiations. Staff clarifies work and pay expectations and follows up to ensure both employer and worker satisfaction. Furthermore, workers may learn English and improve their job skills at evening classes or while waiting for work.
In addition, 10 religious communities make regular or occasional contributions. Businesses and foundations appreciate the center's strong work in job training and development; and this year, about 75 percent of those hiring the workers are returning employers.
"Local nonprofits are amazed at our statistics, with a 48-percent increase in jobs during the second quarter of this year, compared to last year's second quarter," said Fernández. "And the staff has continued to work with skill, care and energy, even during economic hard times that required cutbacks during the winter."

This year, the workers have taken painting and carpentry classes, as well as classes in health and financial matters. They also receive daily ESOL sessions.
"Donors came forward to provide much-needed resources during the lean times," said Fernández. "We have no government financial cushion, and only private donors support our lifeline for day laborers."