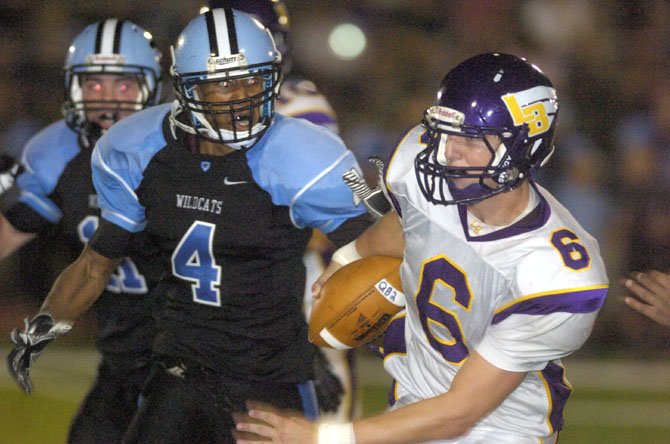 Centreville — Centreville and Lake Braddock, winners of the last three Division 6 Northern Region championships, opened their 2012 seasons on Aug. 31 with the high school football equivalent of a heavyweight boxing match.
Centreville landed some early punches as the Wildcats used a punishing ground game to build a 14-0 lead. Lake Braddock countered, using its big-play ability to score 27 unanswered points. The Bruins' barrage was nearly enough to win the fight. But in the contest's final minute, the Wildcats delivered the decisive blow.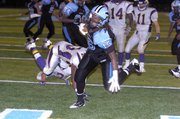 Centreville quarterback Scott Walter connected with A.J. Turner for a 14-yard touchdown pass with 42 seconds remaining in the fourth quarter, lifting the Wildcats to a 28-27 victory at Centreville High School. Lake Braddock reached the Wildcat 33-yard line during the game's final possession, but the Bruins came up empty.
Centreville, which graduated five first-team all-region athletes from its state runner-up team in 2011, trailed 27-14 in the fourth quarter.
"These kids are fighters, they're competitors, they're gamers," Centreville head coach Chris Haddock said. "The youth in them and the inexperience in them are going to create some mistakes, but our heart and our toughness and our guts are hopefully going to make up for a few of those things."
LAKE BRADDOCK LED 27-21 and had possession at Centreville's 25-yard line with about four minutes remaining. Facing third-and-10, Henderson threw downfield and was intercepted by Turner at the 8-yard line. The Centreville sophomore returned the pick 36 yards to the Wildcats 44, and caught the game-winner 11 plays later.
"I saw [Henderson's] eyes when he turned and cocked [to throw]," Turner said, "… so I just ran that way and tried to pick the ball off or even swat it down, but I had a chance for a pick, so I got it."
Centreville led 14-0 early in the second quarter thanks to a 32-yard touchdown run by Marcel Smith on the Wildcats' first possession and a 12-yard touchdown pass from Walter to Christian Martey on their third series. Lake Braddock quickly dug itself out of the two-touchdown hole, responding with 21 points before the half. After Martey's touchdown reception, Lake Braddock defensive back Aaron Hollins returned the ensuing kickoff 96 yards for a touchdown. The Bruins tied the score on their next possession, when quarterback Caleb Henderson found Jong Yoo for a 15-yard touchdown. The nine-play, 53-yard drive was kept alive when Lake Braddock, facing fourth-and-six on the Centreville 49, executed a fake punt and Tim Coulter raced 22 yards for a first down. Three plays later, the Bruins converted on third-and-16 when Henderson hit A.J. Alexander for a 19-yard gain.
"These kids are fighters, they're competitors, they're gamers. The youth in them and the inexperience in them are going to create some mistakes, but our heart and our toughness and our guts are hopefully going to make up for a few of those things."

--- Centreville football coach Chris Haddock about the Wildcats
While Lake Braddock had answered Centreville's strong start, the Bruins grabbed momentum by the throat when Henderson launched a deep pass to Alexander for a 58-yard touchdown on the final play of the first half, giving Lake Braddock a 21-14 lead.
"I'm just pleased that our kids fought back the way they did," Haddock said. "You could feel it. The entire momentum had shifted right before the half --- we give up a kickoff return, they score on the last play of the half. With the youth that we had and the inexperience we had, they could have very easily packed it in, [but] then we score with [42] seconds left in the game. That's fighting until the bitter end."
Sophomore running back Taylor Boose led Centreville with 17 carries for 78 yards. His 6-yard touchdown run with 6:13 remaining in the fourth quarter cut Lake Braddock's lead to 27-21. Seven Centreville ball carriers combined to rush 45 times for 276 yards.
Junior running back Martey carried eight times for 51 yards and caught two passes for 17 yards and a touchdown, but sat out the second half with a right leg injury.
Walter completed 8 of 20 passes for 88 yards and two touchdowns. He was intercepted twice.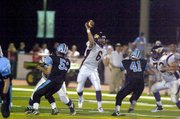 IN HIS FIRST START for Lake Braddock, Henderson completed 16 of 27 passes for 212 yards and two touchdowns. He was intercepted once and sacked five times.
"I thought," Haddock said, "the defense did a very solid job tonight against maybe one of the best quarterbacks that we're going to see."
Henderson transferred to Lake Braddock after earning second-team all-region honors as a sophomore signal caller at West Potomac. Trailing by one in the final minute, he led the Bruins down the field and thought they had a chance to win when he connected with Vince Sica for 24 yards down to the Centreville 40.
"I felt like when they scored, we had a great chance to score again," Henderson wrote in a direct message on Twitter. "When Vince caught that ball near our sideline, I thought he was gone."
Alexander had seven receptions for 123 yards and a touchdown. Running back Jon Carrier's 2-yard touchdown run gave Lake Braddock a 27-14 lead with 4:34 remaining in the third, but the point after attempt failed, leaving the door open for Centreville to win by a point.
Kyle Shanahan and Hollins each intercepted a pass for the Bruins.
Lake Braddock will host Annandale at 7:30 p.m. on Friday, Sept. 7.
"This week we are completely different," Henderson wrote, "and we are going to be great this week. I can't wait."
Centreville will travel to face West Potomac at 7:30 p.m. on Friday.
"I think it can really boost our confidence up really, really high," Turner said about beating Lake Braddock. "Coach Haddock was telling us how Lake Braddock really wants to kick our butts, so we just have to step it up and play as a team."