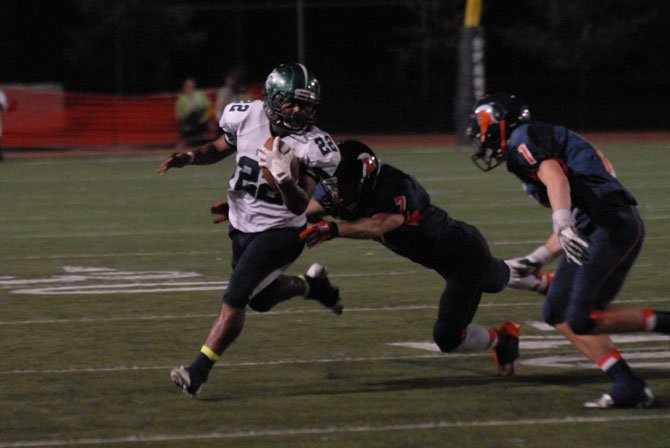 The South County Stallions stumbled out of the gate each of the last two seasons, piling up early losses before hitting their stride.
In 2011, South County overcame a 0-3 start by winning its next 11 contests and reaching the Group AAA Division 5-state championship game.
In 2012, the Stallions lost five of their first six games, but responded with five consecutive victories and advanced to the region semifinals.
The South County football program has proven it can overcome adversity. Now the Stallions have a chance to show what they can accomplish when things are going right from the start.
South County is 4-1 and has scored at least 34 points in each game and more than 50 points in each victory. On Oct. 4, senior running back LeVaughn Davis galloped past West Springfield for 128 yards and five touchdowns as the Stallions spoiled the Spartans' homecoming with a 54-3 victory at West Springfield High School.
South County turned the ball over on downs on its opening possession and quarterback David Symmes was intercepted during the Stallions' second drive. Meanwhile, West Springfield took a 3-0 lead on a 19-yard field goal by Jaxon Clark.
South County would break through on its third drive, taking the lead for good on a 16-yard touchdown run by Davis. The Stallions dominated the remainder of the contest, scoring seven rushing touchdowns.
Davis, a three-year varsity athlete, scored on runs of 16, 1, 5, 2 and 17 yards.
"We started off slow for the second week in a row for I don't know what reason," Davis said. "… Our [linemen], they have a short memory. They just keep fighting hard. They just open up the holes [and] I'm running through them. They make it real easy for me."
Through five weeks, South County has victories against Mount Vernon (56-7), Hayfield (56-21), Lee (53-9) and West Springfield. The Stallions' lone loss came against Chantilly (42-34).
How have the Stallions avoided another rough start?
"I think we're just more hungry," Davis said. "We know what we have to do and our coaches, they're just hard on us, so we have no choice but to go hard. But this year, we should go all the way to states. Nothing less."
South County head coach Gerry Pannoni credited cohesiveness for the strong start as many of the team's athletes have worked with one another for several years.
"I think we're just more hungry. We know what we have to do and our coaches, they're just hard on us, so we have no choice but to go hard. But this year, we should go all the way to states. Nothing less."

—South County running back LeVaughn Davis
Against West Springfield, the Stallions shined on both sides of the ball. On offense, South County's up-tempo attack amassed more than 300 yards on the ground and scored seven rushing touchdowns. Fullback Michael Gibson rushed for 82 yards and Symmes had 68 yards and a score. Mitchell Seeman scored on a 3-yard run in the fourth quarter.
Symmes completed eight of 15 passes for 115 yards and an interception. His 37-yard strike to James Simon set up the Stallions at the West Springfield 1-yard line late in the first half. Davis scored on the next play, giving South County a 17-3 lead.
Symmes also hauled in a 35-yard reception.
Pannoni said the Stallions' tempo wasn't where he wanted it to be.
"We started out not very good, beating ourselves with mistakes," he said. "Once we eliminated those, we were OK. They just have to keep grinding it out."
The South County defense, a unit with eight athletes who saw significant playing time last season, limited West Springfield to 60 yards of offense, including minus-28 on the ground. Stallions defensive back Kyle Foley intercepted a pass early in the second half, setting up a seven-play, 36-yard scoring drive, capped by a 5-yard touchdown run by Davis.
West Springfield quarterback Jacob O'Connell completed nine of 21 passes for 86 yards and an interception.
The Spartans fell to 2-3. After a 2-1 start, West Springfield has been outscored 117-3 in its last two games against Westfield and South County.
West Springfield will travel to face West Potomac at 7:30 p.m. on Friday, Oct. 11. South County will travel to face T.C. Williams in a matchup of 4-1 teams at 1 p.m. on Saturday, Oct. 12.