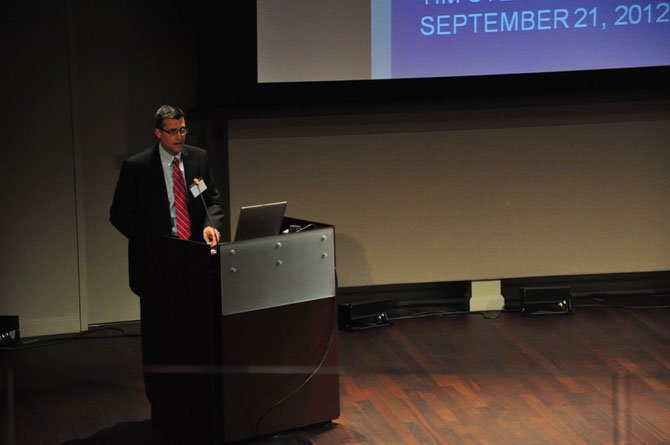 McLean — In the next 15 months, Tysons Corner will see almost $5 billion in new transportation projects come online. The 485 Express Lanes are scheduled to open by the end of this year, and by the end of next year, five stops along the Silver Line will connect Reston and Tysons Corner to the rest of the metro system.
The fourth annual Keep Tysons Moving event was held Friday, Sept. 21 at Capital One Headquaters, featuring leadership from these projects to provide an update on what commuters can expect in the coming months.
"Since 2008 we've been living and working with construction zones around Tysons Corner and the Beltway. This area is home to the two largest ongoing projects in the nation, the 495 Express Lanes and the Dulles Metro extension," said John Lynch, regional transportation program director with VDOT. "Together these two projects represent about $5 billion in infrastructure improvements. So a substantial amount has been invested in the Tysons Corner area. The projects themselves represent new options for those who live, work and play in the Tysons area."
THE 485 EXPRESS LANES are a joint operation between VDOT, the Virginia Department of Rail and Public Transportation, the Federal Highway Administration and the private company Transurban-Fluor.
The lanes will be variably-priced, with access from north of the Dulles Toll Road south to Braddock Road. Vehicles with three or more people, as well as buses, will be able to ride for free.
As of now, the lanes are 98 percent complete, with work on the ramp connections, pavement striping and operational testing yet to be done.
"We'll be adjusting the toll rates to maintain as close to 55 miles per hour as much as possible," said Tim Steinhilber, the project general manager for Transurban-Fluor.
All electronic tolling, done at highway speeds.
"There are three access points in Tysons Corner, Route 7-Leesburg Pike, Westpark Drive and Jones Branch Drive," he said. "We have provided additional access points to Tysons without having to access Chain Bridge Road… the main point is to get traffic in and out of Tysons as fast as possible, so you can not only get a 55 mile per hour trip to Tysons, but access closer to your destination once you exit."
There will be 495 Express Lanes signage show ingprices to get to two popular destinations along the Beltway, in addition to a price displaying the cost of access to the farthest point from the exit a driver is entering from.
The lanes are separated from regular traffic by barriers, and are 100 percent monitored by video, as well as state troopers.
PHASE ONE OF DULLES METRORAIL is nearing completion, with construction about 80 percent complete, said Pat Nowakowski, executive director of the Dulles Metrorail Project.
"Going forward, a lot of our focus is on a lot of electrical-type work, train controls, the third rail power, those types of things, and spacing work. You're going to start seeing these stations reach a high level of completion," he said.
All aerial structures are in place, and all tracks are expected to be placed within a month. Nowakowski said he hoped that by this time next year, construction will be complete.
"We expect in three weeks time to be setting pedestrian bridges in place over top of Route 123. That will occur on Friday night, Oct. 5, and Saturday night, Oct. 6, if things stay on schedule," he said. "We're very pleased to start moving this part of the contract forward, this is the first part, then we'll be moving to Wiehle Avenue and putting those bridges on over top of the Dulles Access Highway and the Toll Road."
For Phase Two, Sept. 11 marked the deadline for companies to submit their request for qualifications information. By October, the companies are expected to be on a short list, price proposals are due April 2013, and Nowakowski said he expected the contract to be awarded in May 2013.