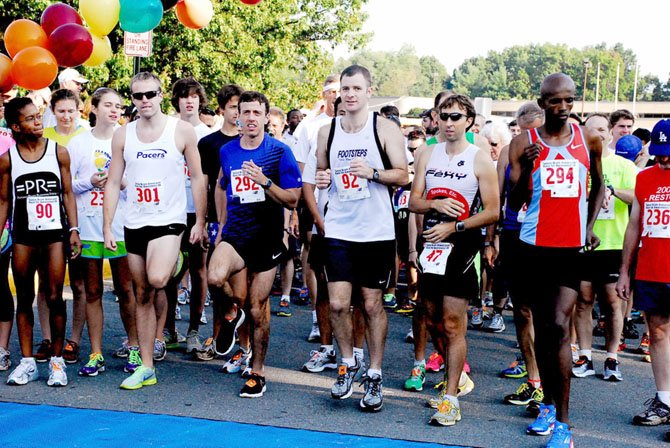 Many of the 650 participants in the Brain Aneurysm Race for Awareness, held in honor of Tim Susco, a 1999 South Lakes graduate who died suddenly in 2007 at the age of 25 from a brain aneurysm, participated in the event in memory of someone who had passed away following a brain aneurysm.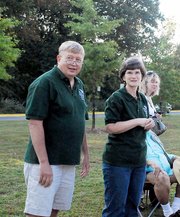 Members of Team Barb were there in honor of Barbara Chirles, who passed away in 2008 at the age of 35. Barbara's husband, Brian Chirles of Reston, said that shortly after Barbara's death, he was looking for a way to remember his wife and perhaps do a bit of good, when he came across the Susco 8K. He and Barbara's mother, Debby James of Lorton, along with a group of friends and family have participated in the Susco 8K every year. "This is a way to help keep Barb's memory alive," said Chirles.
Joan Olinger of Reston and Lisa Novick of Alexandria were classmates of Tim's. This was their third year participating in the race, "although I'm not much of a runner," said Olinger. "It's a good way to keep Tim's memory alive," she added.
The 30 members of Team Alive, the majority of whom were members of the military, were there to support a friend whose mother had passed away from a brain aneurysm.
In addition to raising money for brain aneurysm research, part of the event proceeds goes to Washington Regional Transplant Community, in an effort to support awareness for the need for individuals to register as organ, eye and tissue donors. Following his death, Tim's family decided to donate his organs and tissues.
"Because of people like Tim Susco and his family, some good can come out of tragedy," said Lisa Colaianni of WRTC.
"We wanted to bring awareness to organ donation and to create a fundraiser for brain aneurysm research," said Tim's mother and event organizer, Nancy Susco. "Tim was a runner. He was on the cross country team, here at South Lakes. So, a race was a natural fit."
The event is also an opportunity to draw together members of the Susco family's support community. With tears in her eyes and with her husband, Tom, by her side, Nancy said, "Everybody is here, but Tim." Grandparents, aunts and uncles and cousins as well as teachers, co-workers and classmates participated in Saturday's event. "This event draws together so many from our community," added Nancy.
Former Olympian Alan Webb also participated in the Susco 8K. Tim and Webb were teammates on the South Lakes cross country team. In Saturday's event, Webb set a new course record, completing the race in 24:19. Kristin Anderson of Arlington was the top female finisher with a race time of 29:06.
Participants paid $35-$40 to participate in the run. In addition to the 8K race, a 2K all-ages fun-run was available as well. In the five years the event has been held, Tim's family has raised more than $180,000 for the Brain Aneurysm Foundation and WRTC.