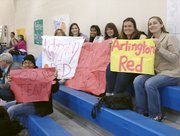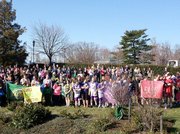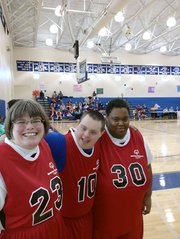 "Who cares who wins, it's the interactions with the players that make this so special."
— Dr. Douglas Ball, professor of education at Marymount University and faculty sponsor for the Council for Exceptional Children.
Athletic all-stars sunk shots and hit the court in a show of sportsmanship at the 16th Marymount University Special Olympic Games, held Saturday April 6. Bleachers were filled with cheering fans in a show of support for the 10 Northern Virginia teams.
"This type of tournament makes the athletes feel like they're playing college level basketball," said Bernie Woofley, a veteran coach and coordinator for the Arlington Red, White, and Blue teams. "The joy the university puts out is tremendous, for us this is an end-of-the-season event."
Athletes who compete in the Special Olympics have disabilities that include Down Syndrome, emotional disabilities, and autism. A three-tier system is used for Arlington teams that reflect skill level, with the Arlington Red team performing half court three-on-three games, and the White and Blue teams competing full five-on-five games.
Event organizers pitted teams of comparable skills against one another, and while the Langley Cavaliers bested Arlington Red 20-4 in a highly anticipated afternoon match up, players were satisfied to have performed in front of a crowd. "This was my first game, I had fun," said Barett Dodge, a senior at Yorktown High School and member of the Arlington Red team.
Marymount University students preformed halftime dance shows, made signs and cheered. Interactions with the players continued off the court, and students shared the post-game excitement with the athletes over a meal. "Everyone feels included. It's a good way to promote the Special Olympics," said Colleen Hilderbrand, a graduate student and officer with the Kappa Delta Pi honor society. "It's great to interact with the athletes and brighten their day."
"This is a great day for everyone," said Dr. Douglas Ball, a professor of education at Marymount University and faculty sponsor for the Council for Exceptional Children. "Who cares who wins, it's the interactions with the players that make this so special."