Alexandria — They sing, they dance and — OMG — they even have sex. They're the potty-mouthed puppets (and their human counterparts) of "Avenue Q," the Tony Award-winning musical now playing at The Little Theatre of Alexandria.
Conceived by Robert Lopez and Jeff Marx, who wrote the music and lyrics, "Avenue Q" is a coming-of-age satire on the anxieties of young adulthood. Mixing risqué material with Sesame Street-like puppets, the 2003 Best Musical on Broadway is bringing local audiences to its feet.
"I've seen 'Avenue Q' on Broadway and in London and this LTA cast is every bit as good," said theater veteran Roland Branford Gomez following the Aug. 4 performance. "The talent on this stage is truly remarkable."
At the center of "Avenue Q" are Princeton, a recent English grad, and Kate Monster, a kindergarten teaching assistant. In trying to find their purpose in life, both are abetted by a menagerie of neighbors that includes monsters, puppets, slackers and Gary Coleman. Yes, that Gary Coleman.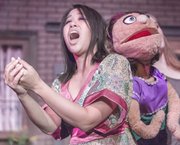 Directed by Frank Shutts II, the entire cast is incredibly solid with equally impressive puppet work.
Sean Garcia, as both Princeton and Rod, is especially adept at making his puppets spring to life with his animated, inspired movements. He deftly switches between vocal characterizations for Princeton and Rod, the uptight, closeted Republican.
Along with Garcia, Kristina Hopkins as Kate Monster is a force to be reckoned with and together they lead a cast that is blindingly synchronized and talented.
Alexandria's own Matt Liptake, a recent transplant from Rochester, N.Y., makes his LTA debut and provides a trio of non-stop entertaining antics as Nicky, Trekkie Monster the porn addict and one of the hilarious Bad Idea Bears.
Sultry Claire O'Brien sizzles as Lucy the Slut with Stephanie Gaia Chu as the haranguing but hilarious social worker Christmas Eve.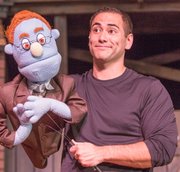 Rounding out the robust cast are James Hotsko Jr. as Brian, Aerika Saxe as Gary Coleman and Charlene Sloan as Mrs. Thistletwat and one of the Bad Idea Bears.
Shutts' choreography is as impressive as his directing. What could have been confusing — several actors having not one but two puppets on their hands at various times — comes off seamlessly and is a testament to the effort he and the LTA cast and crew put into preparing for the show.
With set design by MYKE, costumes by Jean Schlicthing and Kit Sibley and lighting by Ken and Patti Crowley, Shutts has assembled an award-winning team to bring a wickedly witty night of theater to the LTA stage.
"The set looks awesome," said Shutts prior to the show's opening. "LTA usually knocks the tech out of the park and they've done it again with this show."
With a delightfully devilish but politically incorrect score featuring songs like "It Sucks to Be Me," "Everyone's a Little Bit Racist" and "The Internet is for Porn," this is not a show for younger audiences. For everyone else, the laughter is loud and often at "Avenue Q," one of the best productions to be seen on the LTA stage.
"Avenue Q" is playing through Aug. 17 at The Little Theatre of Alexandria, 600 Wolfe St. Due to increased demand, additional shows have been added on Aug. 11 and 13. For tickets or more information, call 703-683-0496 or visit www.thelittletheatre.com.