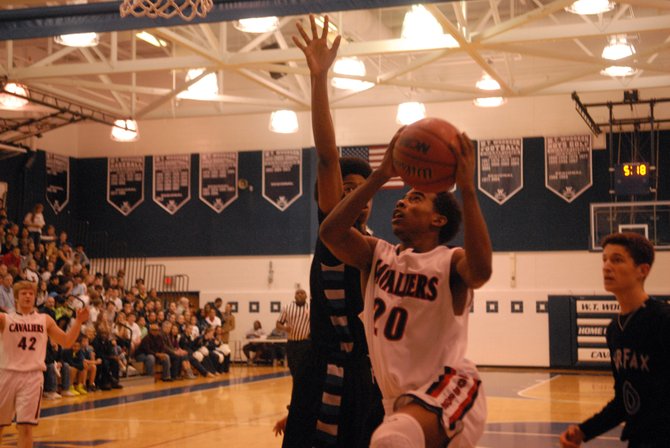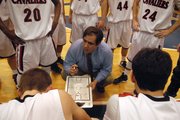 After two seasons as the starting point guard of the W.T. Woodson boys' basketball team, Eric Bowles decided to weigh his options.
A talented athlete who will one day play college basketball, Bowles planned to transfer to Clinton Christian School in Upper Marlboro, Md., for the 2013-14 school year. Bowles had earned Patriot District Player of the Year honors as a sophomore and led the Cavaliers to the 2013 AAA state semifinals, but Woodson graduated most of its key players from its deep postseason run, leaving the Cavaliers with an inexperienced group for the upcoming season.
With a week or so left until the start of school, however, Bowles and his family had a change of heart.
"My parents and I," Bowles said, "made the decision to stay [at Woodson]."
More than three months later, basketball season has arrived. While the athletes around him have changed, Bowles said he is still a "pass-first point guard" despite the graduation of several offensive weapons. While Bowles' thought process might be the same, on Friday night he showed he's plenty capable of picking up the scoring slack.
Bowles scored a career-high 25 points as the Cavaliers defeated Fairfax 55-43 during the Red Jenkins Tipoff Classic at W.T. Woodson High School. The victory evened Woodson's record at 1-1 after the Cavaliers lost their season opener to Herndon, 73-65, on Dec. 3.
Against Fairfax, Bowles scored the game's first points on a 3-pointer from the top of the arc. He shot 11-for-19 from the floor, went 2-for-6 at the free-throw line, grabbed six rebounds, dished three assists and totaled seven steals.
"I'm still a pass-first point guard," Bowles said. "I'm going to look to find the open man, but if I have to I can take it to the basket or shoot."
Bowles was primarily a ball distributer last season, setting up 3-point sharpshooters Tommy Stepka, Peter Murray and Alex Boock, among other scoring threats. On Friday, Bowles attacked the rim and scored several points in transition. With Woodson leading 23-15 early in the third quarter, Bowles scored back-to-back transition buckets, giving the Cavaliers their largest lead to the point. Woodson led by as many as 15 in the fourth quarter.
"If everybody wants to play him as a pass-first point guard, then he's going to go out and have a lot of 20-point games and people are going to realize he can score."

--- Woodson boys' basketball coach Doug Craig
"I think what happens sometimes is people don't think he can score," Woodson head coach Doug Craig said. "But he can score the ball if he wants to, it's just we always have so many other guys around him that can score, we don't really need him to score, we don't ask him to score a lot. … He's got to just take what the defense gives him. If everybody wants to play him as a pass-first point guard, then he's going to go out and have a lot of 20-point games and people are going to realize he can score."
Bowles said it wasn't awkward to return to Woodson after he had planned to transfer, pointing out that he changed his mind shortly after the initial decision and school had yet to start.
Junior forward Tyler Wilson, who saw limited varsity playing time as a sophomore, said it wasn't awkward having Bowles back.
"He's a big part of the team and we're glad to have him back," Wilson said. "He never really left."
Craig said he understands why Bowles considered transferring.
"He's a good player, he's got people that are giving him options, you've got to explore your options," Craig said. "That's part of life. Eric still is a Cavalier no matter … if he's here, if he's not here. He's played two, three years in our program. … Eric is very well like by his teammates and everybody understands he has some opportunities.
"I think Eric looked at some of the other opportunities and thought about it decided, 'Hey, it's not necessarily any better than what I have now.' … I think he realized he can reach his goals by being here."
While Bowles is back, an inexperienced Woodson team is learning to play with one another. Wilson finished with 13 points on 6-for-9 shooting. Sophomore guard Matt Ayoub, senior guard/forward Jimmy McLaughlin and senior forward Andy Stynchula each scored four points. Stynchula grabbed nine rebounds and Wilson finished with six rebounds and five steals.
Ayoub scored 32 points and knocked down six 3-pointers in Woodson's season opener against Herndon.
"It's a new group and it comes with its own challenges," Wilson said. "But we've got a lot of athleticism and once we get our chemistry down, I think we'll be well off."
Jack Allsopp led Fairfax with 12 points and Alan Liu added 10.
Fairfax will face Robinson at 5:30 p.m. today during the final day of the Red Jenkins Tipoff Classic at W.T. Woodson High School. The Cavaliers will take on Edison at 7 p.m.
"I think we've just got to build that trust with each other," Craig said. "I don't know if it's there all the way yet because you've got so many guys who aren't used to playing with each other. We're trying to figure out roles and we've got several guys up from the JV --- it's their first varsity experience --- right now they're playing a little bit timid, but that will come as they play a little bit more as the year goes on. I'm not worried about it."