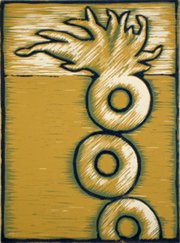 Last Monday artists and volunteers were setting up the new art exhibit at ArtSpace Herndon, "30 Years 30 Artists." In conjunction with the "30 Years 30 Artists" exhibit, the Northern Virginia Community College's Loudoun campus students are showcasing seven students' printmaking in a display called "NOVA Student Printmakers." The students' exhibit includes etchings, lithographs, linocuts, and original hand-pulled prints.
The "30 Years 30 Artists" exhibit includes original hand-pulled prints from 30 current and former artists representing Discover Graphics Atelier over the past 30 years. "We have a good complement of printmaking art, we are really excited about our show," said Brenda Page, ArtSpace volunteer.
Discover Graphics Atelier, Inc. is located in the Torpedo Factory Art Center in Alexandria and offers a variety of classes and workshops in collaboration with The Art League. Discover Graphics, a nonprofit organization, operates under the direction of Penny Barringer. "The show exhibits all the printmaking done in Discover Graphics, the media are intaglio, relief lithography, and monotype printmaking," said Barringer.
Nancy Aldrich-Wolf, a resident of Accokeek, Md., has one art piece on display at this exhibit. Aldrich-Wolf's work "Mingus In Heaven" is a collage of different lithographs. "He was an amazing cat, he needed to be immortalized," said Aldrich-Wolf. This her first time displaying work at ArtSpace Herndon.
Andrea Gettings dropped off a work by her mother, Mary Morrison, a former member of the Discover Graphics group. "This exhibit is really looking at the whole lifespan of Discover Graphics," said Gettings. The art piece called "Close Quarters" is one of a series done years ago by Morrison. One piece is now in the permanent collection of the Smithsonian National Museum of American History.
Judy Coady, resident of Annandale, is another artist who has work on display at this ArtSpace Herndon exhibit. "I have three pieces in this show, they are etchings. Two are figurative and one is abstract," said Coady. "I think this will be a beautiful exhibit."
The exhibit "30 Years 30 Artists" will be on display at ArtSpace Herndon through Jan. 12. To learn more about the ArtSpace Herndon, visit www.artspaceherndon.com.