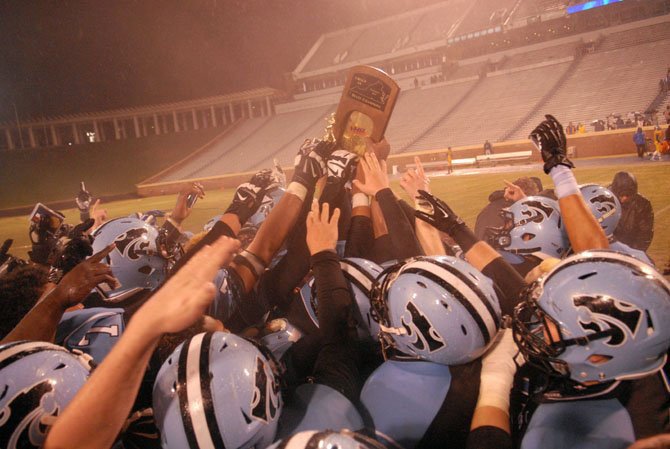 The year 2013 provided several exciting moments in local sports. For Centreville, the football team won its first state championship in more than a decade. For Chantilly, the boys' cross country and lacrosse teams won state titles. Westfield field hockey coach Starr Karl captured her first state title.
Here is a look at the top moments in Centreville and Chantilly sports for 2013.
Centreville Football Wins State Championship
After the Centreville football team defeated Westfield in the 6A North region final and punched its ticket to the state championship game, the Wildcats knew they would be facing a talented Oscar Smith team ranked by USA TODAY as one of the top teams in the country.
Both teams were undefeated and had dominated opponents during the season.
"We know we've got our hands full," Centreville head coach Chris Haddock said after the region final. "Oscar Smith is a nationally-ranked team. They're going to be the best team we play all year. Hopefully we're going to be the best team they've played all year."
One week later, on a cold and rainy night at the University of Virginia's Scott Stadium in Charlottesville, Centreville put forth a dominant performance, making mighty Oscar Smith appear no better than the 14 foes the Wildcats had dispatched en route to the state final.
Centreville defeated Oscar Smith 35-6 on Dec. 14, giving the Wildcats their first state championship since 2000. Centreville dominated in rushing yards (327-14), total yards (338-88) and time of possession (34:02-13:58). Wildcat junior A.J. Turner carried 18 times for 175 yards and two touchdowns. Senior quarterback Scott Walter rushed 22 times for 90 yards and two scores.
"Today, all the credit goes to Centreville," Oscar Smith head coach Rich Morgan said after the game. "They flat-out out-played us, out-hit us; they honestly just did things to us today that we usually do to everyone else."
After the win, USA TODAY ranked Centreville as the No. 15 team in the nation.
"It's tough to choose a favorite moment," Haddock wrote in an email. "The camaraderie with the players and coaches was phenomenal. It made it fun to go to work every day. Game day at Centreville is always special. Running out of the tunnel to see our fans is always an exciting moment.
"This team succeeded because of the high quality of their character, their heart, their dedication to each other, and their chemistry. We were a family. It was gratifying to hear from so many people in our community. I received hundreds of emails and text messages in the last few days. Thanks to all our fans and community members for all their support throughout the year."
Centreville finished the season with a 15-0 record, the best in school history.
Westfield Field Hockey Wins State Title
Westfield Head Field Hockey Coach Starr Karl's decorated resume includes 21 district/conference championships and more than 300 victories in 24 seasons. But if she was to win her first state title, the Bulldogs would need to knock off two-time defending champion First Colonial in the state final.
Westfield entered with a plan, applied pressure and came out on top.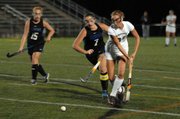 The Bulldogs defeated First Colonial 2-1 on Nov. 16 to win the state title. Westfield became the first Northern Virginia team since W.T. Woodson in 2003 to win a state championship.
"When the whistle blew and the game was over it was a sense of pride for a group of young ladies that started off the season fragmented and little by little as the season progressed bought into 'TEAM,'" Karl wrote in an email. "After the first 7 minutes of the game we started playing our game and we stayed composed throughout the entire 60 minutes. We put First Colonial back on their heels after the first goal [and] we became much more confident. We were tested at the very end of the game with defensive penalty corners and we stayed to the game plan and stuck FC, who had scored most of their goals during the season on penalty corners.
"For me, it was about 24 years of hard work paying off for this Westfield team that won it and all of my other teams that had come up short."
The teams were tied at 1-all at halftime and Westfield's Katie Winesett scored the game-winner on a corner eight minutes into the second half. Emily McNamara scored the Bulldogs' first goal.
Westfield finished the season with a 22-2 record. The Bulldogs dropped their opener to South County and had a 4-2 record after a loss to Tabb, but closed the season with 18 consecutive victories.
"We had great individuals, but to have a great season it had to be about everyone working together each day in practice and believing in each other," Karl wrote. "We knew going into the finals that the pressure was on First Colonial. They had won the last two state titles and knew what it takes to win a title. It had been 10 years since a Northern Region team had brought it home to NOVA. In the state tournament, the playing surface helped raise the level of our game. The water-based turf is where the best game of hockey is played and I think we displayed that during the state tournament. We could play a very fast-paced game which was to our advantage and use our skills at a top level.
"Our bench played a huge part each day in practice when they challenged the starters to play top level-hockey. I don't sub a lot and the bench had bought into the program and they knew their role on the team. The FC corners were huge in their offensive game plan. We studied them from scouting reports and we were able to shut them down."
Chantilly Boys' XC Repeats as State Champs
Despite the loss of 2012 individual state champion Sean McGorty, one of the top high school harriers in the country, who now competes for Stanford University, the Chantilly boys' cross country team found a way to repeat as state champions in 2013.
The Chargers won the state title with a score of 85 on Nov. 15 at Great Meadow. Lake Braddock finished runner-up with a score of 87, followed by Robinson (89) and Battlefield (89).
"It's hard to pinpoint one specific moment that I am most fond of, but I suppose that there were a few minutes, right after we had learned that we had won, when everyone came through the chute, and we were exchanging hugs and cheering, and everyone was really, really happy," Chantilly head coach Matt Gilchrist wrote in an email. "It was a lot different from last year, because going in to the 2012 race, we knew that we would win, as long as we didn't implode. This year, winning by only two points, and with only four points separating first from fourth, it was almost a feeling of disbelief that we actually pulled it off. I can't say that one memory was better than another, but it is still a really amazing feeling to have set a lofty goal of defending a state championship, and then actually being able to pull it off. It was a moment of both pride, and cheer euphoria."
Ryan McGorty placed third for Chantilly with a time of 15:45. Dakota Lange finished fifth with a time of 15:51. McGorty and Lange earned all-state honors by finishing in the top 15.
Adam Huff finished 25th (16:11), Peter Malander came in 27th (16:12) and Evan Compton was 50th (16:40).
"Obviously, you have to have some talent to be competitive," Gilchrist wrote. "We lost our top three runners from our state championship team last year, but brought back three runners with serious state experience. We were fortunate to get a strong transfer, Dakota Lange, who was an all-state runner in Utah. With that being said, we still had to maneuver through a very, very strong district, region and state. I think that the keys were: setting our focus from the beginning of the season, back in June, on running well at states, and letting that be our main focus. This allowed us to relieve ourselves of the pressure to try and win every single week, because we felt that if we took a second or third in an invitational, all that mattered was to be the best in the postseason, when it really counts.
"... I will say that as a coach (and I think the runners and their families share this sentiment), to win a state championship is a huge feat, and not one that comes along very often. To be able to defend it, and win two years in a row is even more rare. At Chantilly, no boys' team has ever won two titles in a row (softball won titles in both 1989 and 1990). In terms of the region or state, the last team to successfully defend their title was West Springfield, who won three titles from 1993-95. Those are teams I always looked up to when I was a younger coach. It is hard to believe that we are writing our own little piece of history, and it is humbling to think that one day, we can all look back on this period and remember that we did something pretty special. Knowing the work, the sacrifice, and the love that went into winning this year, it is definitely something I can be proud of, and look back upon with fondness, for years to come."
Chantilly Boys' Lacrosse Solves Title-Game Woes
The Chantilly boys' lacrosse team in 2013 reached the state championship game for the fifth time in six years. After coming up short the last three times, the Chargers captured their first state title since 2008.
Chantilly defeated Madison 9-5 on June 8 in the VHSL AAA state final. Madison defeated Chantilly in the Northern Region championship game on May 24, but the Chargers were able get revenge on the state's biggest stage.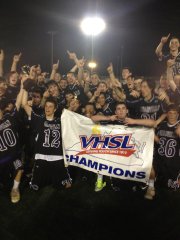 "I think one of my [favorite memories] is the smiles on the players' faces, considering our struggles in the championship game the last couple of years," Chantilly head coach Kevin Broderick wrote in an email. "On the bus home they took pictures of themselves holding the state championship trophy with their cell phones. By the way, the trophy broke in the first 2 minutes on the field, they were so excited."
After winning the state championship in 2008, Chantilly lost to Langley in the state final in 2009, 2011 and 2012. The Chargers lost to Langley during the 2013 regular season, but beat the Saxons in the region semifinals to secure a berth in the state tournament.
"The regional semifinal game vs. Langley was a key point in our season," Broderick wrote. "Lose that game and your season is over. In fact, Langley had ended our season the last four years in a row and beaten us seven straight times. The most recent and seventh loss was earlier in the season in a spring break tournament. The team really prepared, focused and worked hard in practice for that game.
"Then, losing the regional championship game to a really good Madison team two days later gave us even more resolve to work even harder. We had to travel to Charlottesville to play a skilled Albemarle team in the first round of states and then play an undefeated Battlefield team in the semis to even get a chance to play Madison again for the state championship. In the end of season practices the players weren't exactly happy with the coaching staff but they believed we had the right plan for success.
"We really try to stress a team approach where not just the top players are important but everyone has a role and makes a contribution to the team's success. We attempt to play as many players as possible in the games to reward their efforts in practice."