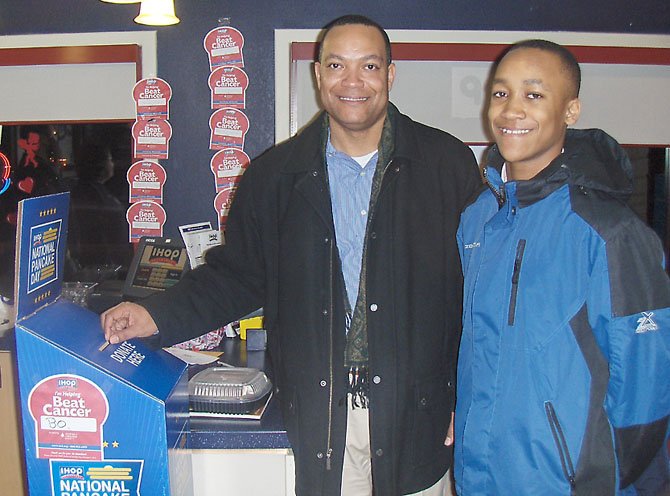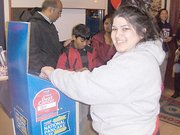 Centreville — Pancakes and syrup make a tasty meal; but at the Centreville IHOP, they're also a way to raise money. And that's what happened Feb. 5 when the restaurant held a fundraiser for the Leukemia & Lymphoma Society (LLS).
During IHOP's National Pancake Day, customers received free, short stacks of pancakes. In return, they were asked to make donations to the charity, and those who did were glad to do so.
"My aunt and grandma had cancer," said Westfield High senior Madeena Aminzay, as she dropped some money into the donation box in the lobby. "And I think, if you have the money, you should help out. Every little bit helps, and it's for a good cause."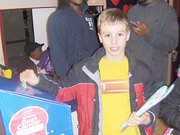 Sarah Farina, assistant manager at that IHOP in the Old Centreville Crossing Shopping Center, said the restaurant holds a fundraiser every year to support LLS. "The owners' daughter had leukemia as a kid," she said. "So we chose LLS because it's dear to our hearts and hit close to home."
That's why, said Farina, "We're happy to do whatever we can for this charity. We try to raise more and more money every year." Besides the Feb. 5 event, she said, IHOP started collecting donations for LLS, the end of December and will continue through the end of February."
She said 100 percent of the proceeds go to LLS for research and patient financial aid. Farina also has a personal reason for supporting the charity so fiercely. "My cousin had leukemia twice when he was a child," she said. "So I appreciate the volunteers who come out to help and I thank them all."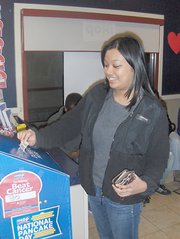 Two of those volunteers working during dinner hours that night were Jean Card and Stuart Moll of McLean. "Everybody's here for the free pancakes, but we hope they'll also learn something about the Leukemia & Lymphoma Society," said Card during the fundraiser. "And most people donate, even if it's a dollar."
Herself a leukemia survivor, Card participates in the Light the Night fundraising walk each October for the National Capital Chapter of LLS. Last year's walks in this area raised about $2 million, she said. And for volunteering at the IHOP event, she and the other volunteers receive a credit for their fundraising accounts.
Last year, she and Moll volunteered for this event at the Chantilly IHOP. "We raised a little under $800 there," said Card. "And we hope to raise as much money as possible tonight."
Coming in for the free pancakes, but also donating were Michelle Strother of Fair Lakes and boyfriend Patrick O'Leary. "It's good to support LLS because I know the money really helps," said Strother.
Colin Powell Elementary fourth-grader Colin Gegg contributed "because you're helping people with cancer." Mom Peg Alessi, a third-grade teacher there, said, "We saw the wait [for a table at IHOP], but stayed to donate because it's important. We've had family members and friends who, unfortunately, passed away because of cancer. So what a good thing it is to donate so they can find a cure for it."
Heather Selzer of Annandale said she always contributes to causes. "I usually try to come to events for this one," she said. "And the pancakes were delicious."
A Centreville High junior, Ticha Romsont of Centre Ridge was also happy to donate. "I like helping people; it makes me happy to see smiles on their faces," she said. "I volunteer at [Inova] Fair Oaks Hospital, pushing patients in wheelchairs."
Also coming to the fundraiser were Brandon and Vera Brown of Little Rocky Run with their three sons, Myles, 13, a Rocky Run Middle eighth-grader; Marcus, 10, a fifth-grader at Willow Springs Elementary; and Kaeden, 6, a Union Mill Elementary kindergartner.
"We wanted to donate to the cause," said Brandon Brown. "Cancer and leukemia hit close to home and affect everybody. And my mom's a breast cancer survivor, so it's something we want to support, contribute to and do our part to help."
As for Card, it was two years ago this month that she was diagnosed. She's in remission now and says, "I was incredibly lucky that the kind of leukemia I had was the easiest to treat. So I help because it's an important cause and it's important to us to raise money for the research."
"Without the research to figure out that a particular form and dosage of vitamin A could help me, in my lifetime, my kind of leukemia was 100-percent fatal," she said. "So I know the value of research, and I want other people to get those same miracles."