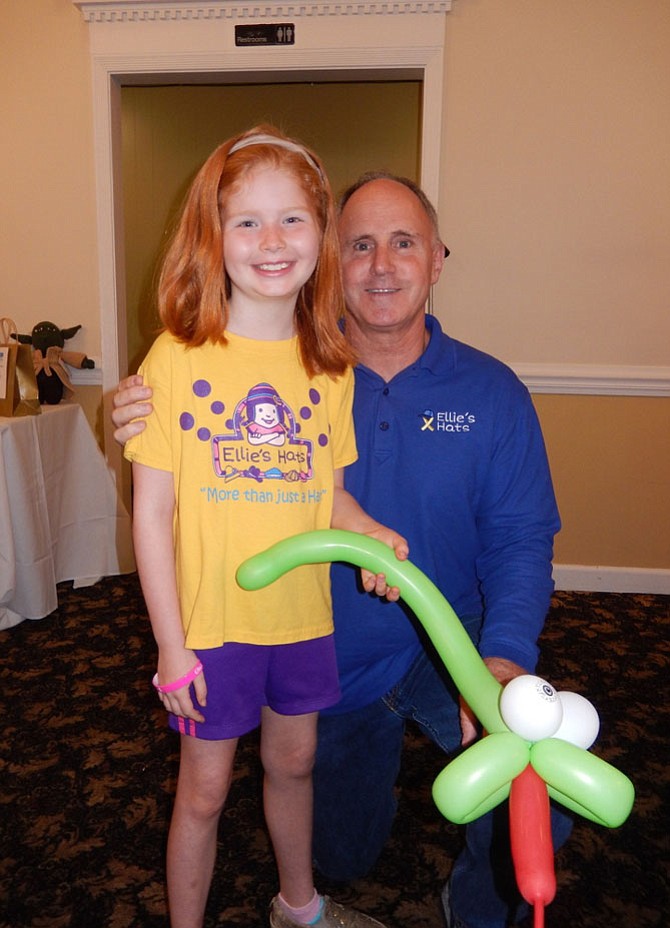 Gourmet pancakes, balloon animals, characters from "Star Wars" and "Frozen," a silent auction, a raffle and lots of fun – all these elements combined to make the second annual Ellie's Hats Pancake Breakfast a big success. Held Saturday morning, May 20, at American Legion Post 177 in Fairfax, it raised more than $14,000 for children with cancer and their families.
"We've had a great turnout," said event organizer Brian Drummond. "It's even bigger and better than last year." Besides the event proceeds and contributions from local residents, Allstate donated $8,000, and sponsors Mystek Systems, Jim McKay Chevrolet and Allstate Agency Owners Mike and Christine Angles donated $2,000.
Ellie Whitfield was diagnosed with acute lymphoblastic leukemia in 2013; and by the time she started kindergarten at Woodburn Elementary, she'd lost her hair and was wearing hats to school every day. Her P.E. teacher, Jay Coakley, noticed how happy her hats made her and organized a hat drive for her.
He also wanted to bring that same joy to other children suffering from cancer, while raising awareness of the disease, so he founded the nonprofit Ellie's Hats. Today, besides collecting and donating hats for these children, it also helps their financially struggling families and contributes to the hospitals and clinics that treat them.
Ellie's long, red hair has now grown back. Introducing her to the crowd at the pancake breakfast, Coakley said, "She's now a third-grader at my school. When I started this, she had a lot less hair and I had a little more." He also thanked the American Legion and all the volunteers helping Saturday, plus the costumed movie characters. "They're doing what we try to do – brighten kids' days," said Coakley.
The Star Wars characters were from the 501st Garrison Tyranus. Portraying "Frozen's" Elsa was Rachel Gray of Joy to the Kids, and playing Anna was Lindsay Bowie from The Princess Performer.
ELLIE, who likes playing tag and soccer with her friends, called the event "cool, because I got to hold a stormtrooper's gun and wear his helmet." She also enjoyed eating some strawberry-topped pancakes and said, "I think Ellie's Hats has made a lot of progress, and it helps kids feel better."
"This breakfast is a wonderful event that brings together a lot of people who care about kids with cancer," added her mom, Jennica Whitfield. "It's a good turnout, and the people here have loved on our daughter for the past two years and helped us through some tough times."
Also there was Kelcey Pavlocak with her two, young daughters, Tasiya and Peytra, eating pancakes with chocolate chips and strawberry compote. "I told them who Ellie is and what she went through," said Pavlocak. "I said she's a very brave girl and that this breakfast is to raise money and awareness for kids like Ellie."
Bobby and Janet Hartoon came from Virginia Beach with their 7-year-old son Gabe. "He has cancer and gets treated up here," said Janet Hartoon. "We knew about Ellie's hats and we also know Jay because he comes and visits Gabe when he's here. We met him at another event and he told us about Ellie's Hats and brought Gabe some hats to wear. Gabe was so excited, he was dancing in his hat."
Event attendees enjoyed a buffet of pancakes, bacon, eggs, sausage, hash browns, ham, orange juice and coffee. And among those cooking the pancakes was Army vet and American Legion member Luke Munson. He made lemon-blueberry pancakes topped with blueberries, pink velvet pancakes topped with white-chocolate sauce, strawberry-orange pancakes topped with strawberry compote, plus plain pancakes to top with chocolate chips and whipped cream.
Munson is also third vice-commander of Post 177 and a member of the Sons of the American Legion. He and his late father and grandfather all belonged to this post, and Munson even held his wedding reception there.
Happy to help out at the breakfast, he said, "It's a great event to help kids with cancer. We also do other fundraisers here for veterans' organizations and donate a lot of money to Fairfax High, the City of Fairfax and 30-40 different organizations."
Carrie and Mike Halpern brought their two sons, Lane and Jackson, to the breakfast. The boys attend Greenbriar East Elementary and, said their mom, "At school, I've headed up our Ellie's Hats collection for two years and dropped off about 50 hats today."
"Jay was my elementary-school P.E. teacher, and he's really grown this program and done a fantastic job," she continued. "Childhood cancer is something that needs attention drawn to it, and it's important for my kids to see Ellie, herself, who they've heard about. We're so excited to be here today."
Pleased to be there, as well, were Cristy Gallagher and daughter Meg, 15, who's been battling leukemia for 16 months. "She got several hats from Ellie's Hats, and her middle school did a hat drive last year," said Gallagher. "She's feeling good now and her hair came back."
Noting that Ellie's Hats sometimes delivers dinners to youth cancer patients at Inova Fairfax Hospital, Gallagher said Meg was there last fall when Coakley brought dinner to her and everybody else on the 10th-floor oncology unit. "It was wonderful because you get sick of that hospital food," said Gallagher. "That's another great service that Ellie's Hats and Jay provide."
She said it was "great fun" to see many of their friends – who get treatment in this area with Meg – at Saturday's breakfast. Meg had a good time, too, saying, "The pancakes were delicious."
REPRESENTING one of the event's sponsors, Mystek Systems, was Misty Gutierrez, who owns the company with her husband Rick. "Jay was my gymnastics coach at Lake Braddock Secondary," she said. "And when he first posted on Facebook about Ellie and that he was collecting hats for her, it touched my heart."
Eventually, said Gutierrez, "Our involvement in Ellie's Hats blossomed into what it is today. Now we sponsor them and volunteer at their events. Last Christmas, we bought a bicycle and a couple iPads for some young cancer patients who had them on their wish list. And today I sold raffle tickets and helped wherever I could to support Jay."
Coakley said the breakfast went very well. "The American Legion people donated their time and venue and cooked all the food," he said. "We also had six volunteers from Allstate helping out. Our slogan is 'More than Just a Hat,' and events like this allow us to do things besides donating hats, such as donating gas gift cards and helping families in financial crisis."
But, he added, "We can't do it without the support of the people who follow Ellie's Hats and come out to events like this pancake breakfast." For more information, go to ElliesHats.org.