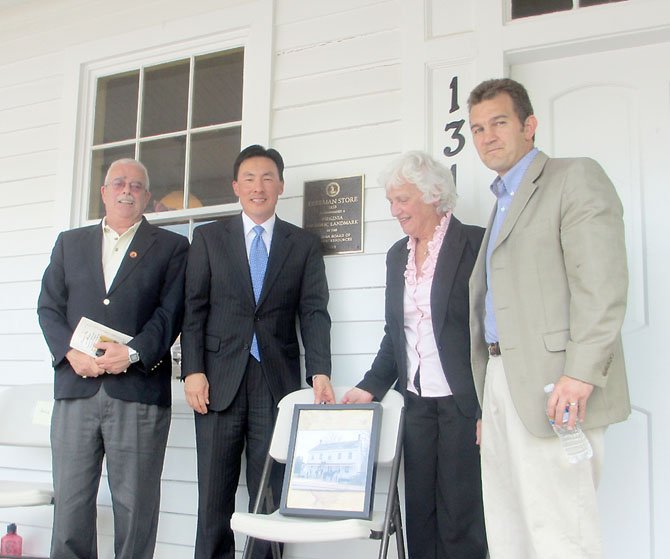 From devastating wind storm to parking garage, Vienna saw diversity in its news stories of 2012. Trees toppled on houses and cars during the June 29 derecho that ravaged the region and thousands of Vienna-area residents were without power for days as emergency crews worked to repair downed power lines. Vienna heard business news, as well, with the founding of a new Vienna Business Association and the proposed Church Street parking garage.
Historic Freeman Store was recognized as a Virginia landmark and was named to the National Park Service's Register of Historic Places.
A murder took place in the Vienna-Oakton area at the end of 2012, although neither victim nor suspect had known ties to Vienna.
Here's a summary of Vienna's top news stories of 2012.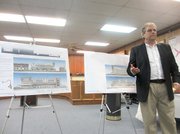 MARCH 2012—Arrington Properties LLC offered a proposal to the Town of Vienna, under the Public-Private Education Facilities and Infrastructure Act [PPEA], to build a mixed-use building and parking garage at 120 Church St. NW. The project is still in planning stages and the town, as well as Arrington Properties, has held a series of public meetings to solicit input from the community and business owners. The building is designed to house retail, office and residential condo space.
Modifications, based on feedback from Vienna stakeholders, were made after the initial public meeting, held on Aug. 15 at the proposed building/garage site. While Arrington Properties would finance the mixed-use building, the Town of Vienna would finance the construction of the parking garage through its meals-and-lodging tax. Arrington proposed to sell the land for the public parking garage to the Town of Vienna for $1. The property at 120 Church St. NW has been in the Arrington family since 1940.
Project architect Paul Layer estimates a construction phase of 18 months, includes breaking ground in February 2014.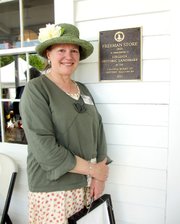 APRIL 2012—The Freeman Store unveiled a Virginia historical registry plaque on April 21, commemorating Freeman Store's designation as a historic landmark in the Commonwealth of Virginia. More than 100 guests, including elected officials, attended the unveiling program.
Known as Lydecker Store when it was built in 1859, the building was used during the Civil War as a base for both the Union and Confederate armies, including its use as a hospital.
From its porch, Vienna citizens voted against secession in 1861.
The Lydeckers and Freemans were joined in business through marriage soon after the Civil War ended, and the Freeman family eventually took over the building. Leon Lydecker Freeman was the first president of Vienna's volunteer fire department, and was elected Fairfax County's first Republican Delegate to the Virginia General Assembly since the Civil War.
The National Park Service subsequently named the Freeman Store and Museum to the National Register of Historic Places.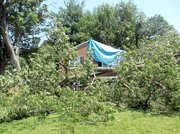 JUNE 2012—On a Friday night, June 29, terrifying high-impact winds blew a new word into the lexicon of people in Northern Virginia. A long-lived windstorm, a derecho, struck the region without warning, causing widespread destruction, downing power lines and trees, and the loss of power to thousands in Vienna and Oakton alone. Uprooted trees crashed into homes.
Some Vienna/Oakton families were without power for up to five days, and Home Depot ran out of small generators as soon as new shipments arrived.
Some Vienna businesses showed their community spirit by offering free beverages or food.
AUGUST 2012—The local business association previously known as the ViennaTysons Regional Chamber of Commerce, headquartered in Vienna, announced it was changing its name to the Tysons Regional Chamber of Commerce and moving to a new location out of Vienna. The local Vienna business community responded within days of TRCC's announcement, founding a new business association reflecting the needs and purposes of Vienna-area businesses. The newly-established Vienna Business Association meets monthly for open business meetings and social networking mixers and has more than 60 members to-date.
DECEMBER 2012—Vienna's year closed out on a solemn note. On Dec. 29, the body of a 19-year-old college student from the Manassas area was found in a crashed vehicle on Chain Bridge Road, not far from the intersection at Nutley. A 22-year-old Gainesville man was charged with homicide in the victim's death.
The victim and suspect did not know one another until they met up in an arranged meeting in Vienna.
The victim was stabbed.