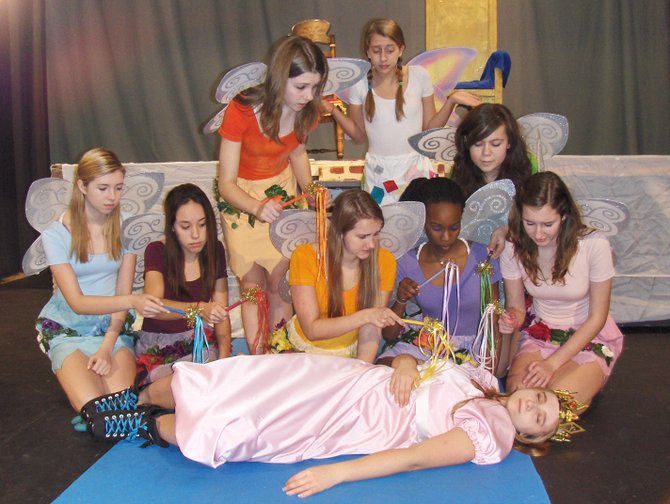 The only thing better than one children's show is two children's shows, and Robinson Secondary's Production Company class, RoProCo, is presenting a double bill this weekend.
"Waking Sleeping Beauty" and "The Lorax" will take the stage on Friday, Jan. 18, at 7 p.m., and Saturday, Jan. 19, at 2 and 7 p.m. Tickets are $5 in advance, $6 online at www.RobinsonDrama.org and $7 at the door.
"What makes this more than just an acting class—but a real production company—is that the students also did the set design and construction, costumes, sound and lighting design, and execution," said Theater Director Chip Rome. "So every little piece is being done, not just by the tech students, but also by the actors themselves."
Each 25-minute play has 23 students in the cast and crew. Rome is overseeing things, but students are directing both productions. Zach Blake directs "Waking Sleeping Beauty" and Anna Turner and Mady Hanton direct "The Lorax."
"Waking" has a more contemporary feel than the original fairytale, said Rome. "For example, Sleeping Beauty wears roller skates and isn't very bright," he said. "And the spinning wheel is delivered to the king and queen by good intentions, not bad ones. The good fairy who gave it as a gift didn't realize it was cursed."
In this rendition there are eight fairies, including Mathilda, who is well-meaning but not accepted by the others. There are also two princes, one good and one bad. Initially, that fools the fairies but good eventually triumphs over adversity.
Dr. Seuss's "The Lorax" is a retelling of what happened to the Onceler, a businessman who discovered truffula trees "from which he made 'thneeds'—which everyone needs," explained Rome. "But he made so many that he destroyed the forest and the environment; however, we do have a hopeful ending."
In addition, children from the audience will populate the Lorax's world and become the fanciful Brown Bar-ba-loots, Humming-Fish and Swomee-Swans. "They'll be reminded about the importance of taking care of our world," said Rome. "And they'll realize they can make it better in their own world."
Freshman Matthew Cook portrays Prince Fauntleroy, the good prince. "He's charming, nice to everybody and willing to help others," said Cook. "He's supposed to wake up the sleeping princess, but is opposed by his twin brother Prince Balderdash, played by Elijah King. I like my role because Elijah and I have good chemistry and it's fun being captured in his net."
Cook said this play has a comic feel and will keep the audience guessing. "You can be really goofy in a children's show," he said. "You know you're going to get smiles and laughs and make them happy."
Playing Mathilda is freshman Anna Turner. "The other fairies don't like her because she's different," said Turner. "She doesn't wear matching socks, she's a klutz and she always messes things up and gives the worst gifts. But she's happy and joyful and tries to do what she thinks is best."
Turner loves her part because "I can experiment, go out of my comfort zone and be crazy and outrageous. And it'll show the audience that, even if one person isn't like other people, they can still be included and be friends with them."
Senior Zach Blake is student directing. "Telling people where to stand, what to do, and how to say their lines was both challenging and fun after being an actor for three years," he said. "There are so many choices that you have to know which one to pick to make the show the best it can be."
He said the more he's gotten to know the actors' capabilities, the easier it's become to put on the play. "I learned how much creative authority you have as a director and how to use it," said Blake. "Having the final say is surprisingly enjoyable."
The Lorax
Portraying the Lorax is freshman Graciela Perez. "He lives in the trees, is the keeper of the forest and speaks for the animals," she said. "He tries to stop the Onceler from cutting down the trees to make clothing from what's inside them. It's fun because he's both playful and strict, so I can play with his personality."
Initially, it was daunting for Perez to play such a well-known movie character, but she now likes having this new theater experience. She said children will enjoy the story because "it's colorful, there's audience participation and the characters are comedic." And she loves being in it because "when you're making kids happy, it makes you feel warm inside."
Since students are acting and doing tech for both shows, freshman Elijah King narrates this play as the 80-year-old Onceler, while a younger version of him is onstage. "He made a terrible mistake when he was younger and he keeps telling people his story, hoping that, somehow, one of them will restore his dreams," said King. "He seems mean to people, but eventually becomes nicer and tries to redeem himself and give back to the land he lives in."
King says the cadence of Seuss's lines can be difficult but, because they rhyme, it's like memorizing song lyrics. "I can have fun with the Onceler's voice, making it scratchy and old-sounding," he said. "And because it's a children's show, I get to act more cartoony and animated. The audience will like the message that, if they work hard enough, they can change the world."
Playing a Bar-ba-loot is freshman Erica Denham. "They're happy creatures, similar to bears," she said. "They play around the trees and eat their truffula fruits. But when the trees are chopped down, they no longer have food and have to leave."
Enjoying her role, Denham said, "We don't speak, but we overreact to what's happening around us. This show's message is to take care of and respect the earth. And children will like it because it's Dr. Seuss—and who doesn't like Dr. Seuss?"