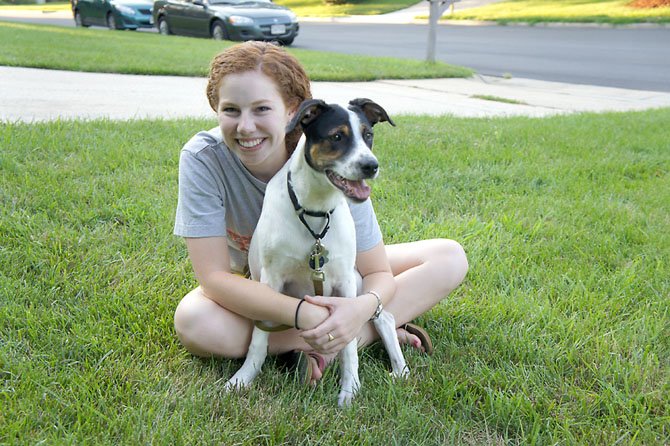 Even in one hundred degree weather, a dog needs his/her walk: That's what Ace and his owner, Eileen O'Connor, were spotted doing one hot July evening. Ace is a friendly puppy who loves playing with new friends and chewing on anything he can get his paws on. Ace recently started dog training classes in the evenings on top of the training Eileen has already began at home.
Recently adopted this summer, Ace is lab mix who is thought by his owner to be part Dalmatian due to the growing number of black spots on his white back, and part terrier due to the resemblance of the breed in his face. Although entering the O'Connor household this summer in Virginia, Ace will be accompanying Eileen to Philadelphia this fall as a companion on her post-grad adventures.


Four New Friends
Brienne Tyler and her family are no strangers to cats. They have had their full-grown cats, Kobe and Flick, for many years now, but just this summer added four new friends to the house, kittens Stix, Scampy and Rocky, and their once stray mother, Swizzle. The kittens are a wonderful addition to the family, and although initially the plan was to try and find a home for them, Stix, Scampy and Rocky have since become full time members of the family for the time being. The three love to play together and especially love playing with and chewing on toys or anything that resembles one. The kittens have turned the Tyler's basement into an imaginary amusement park with their newfound love of climbing and jumping on anything. They may have found their way into the hearts of the Tyler's, but into the hearts of long time family members Kobe and Flick: to be continued.


Swimming at Burke Lake
Burke Lake is a wonderful place for pets, and even in the summer heat, the shaded trails and water are great for dogs. Friends Katelin Chappell and Alyssa Firth like to take their dogs Miles and Molly on walks at Burke Lake for the exercise, but also for the cool dips these avid swimmers get to take in the water on the way. Miles and Molly love to swim and on the hot and humid days Burke has been having lately, Burke Lake is the place to be with areas to dip their belly in the water along the trails. These pit bull mixes love to chase squirrels and run around in fields, and even meet new friends at doggy daycare. Both under the age of 3, Molly and Miles keep Katelin and Alyssa busy with their active lifestyle in the hot summer months.


Friendliest of Friends
One of the most social puppies in Burke, Alissa Hamby's mutt Humphrey is also one of the friendliest dogs around. His favorite pastime is to "rip things apart," but only in the name of love. Humphrey takes his job as the neighborhood watch very seriously and looks out for deer and foxes on a regular basis. Humphrey loves people as well as other dogs and loves to meet new friends at his recent spot at Burke Lake, "Just for Pets" doggy daycare, and the South Run Dog Park. Although the Hamby's just got Humphrey a little over a year ago, he is now a permanent
family member who deeply misses Alissa every time she leaves for college at James Madison after breaks. But they both have a blast while together and Alissa takes advantage of her time at home to put her teaching skills to work as not only as an elementary teacher, but also a dog trick trainer, Humphrey's favorite being the full twirl on his two hind legs.