Happy Campers of Herndon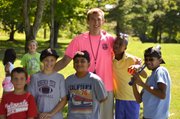 At the end of June, the Herndon Summer Fun Camps began operations at Herndon Community Center, with Harriet Van De Riet and a team of trained counselors directing. "All of our counselors have enrolled in college," said Van De Riet.
The Summer Fun Camps are held outdoors at Bready Park and indoors at the Herndon Community Center. Campers swim twice a week at the Herndon Community Center indoor pools. Activities are planned around themes weekly, and a field trip is offered each week at an additional cost.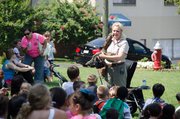 "I have been directing the summer camp for nine years now. I have been working with children for most of my life," said Van De Riet. Van De Riet has been employed as a pre-kindergarten teacher at a school called Parkwood in Vienna.
"On Thursdays, we go to the Herndon Farmer's Market and see the Farmer's Market Fun Day. We walk the short distance using the W&OD trial from the Herndon Community Center," said Van De Riet.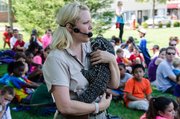 "The kids love the field trips, especially going to the water parks. Swimming is a highlight of the day," said Rachel Anzengruber, assistant director of the Herndon Summer Fun camps. Anzengruber has worked as a counselor at the Herndon Fun Camps for several years now, and will be graduating in December from Radford University with an education degree. "I will be certified to teach kindergarten through sixth grade, and I really hope to teach in Fairfax County."
The staff and counselors find the work engaging and rewarding, and many return for the next summer. "I will try to return next summer," said counselor Ian Holleran. Holleran has been studying elementary education at the University of Nebraska. "I've been gaining learning experience on how to work with kids. I previously worked at some basketball camps, but here in this environment you gain more experience in problem solving."
"During the day kids have some freedom in choosing which activity they want to be involved in, whether it be kickball, dodgeball, relay races, waffle ball, soccer, or arts and crafts," said Anzengruber.
There are three sessions to the Herndon Summer Camp, with Session III beginning Aug. 5 and going through Aug. 16.
"I've been going to every session for the last several years," said camp attendee and Herndon resident Eddie Ozycz. "I have really enjoyed the trips to the water parks and field trips." Some of these previous vacations have included trips to bowling allies, and there is an upcoming planned trip to the National Zoo in Washington, D.C.
Summer camp hours are Mondays through Fridays, 7:30 a.m.-6 p.m. The camp encourages all children to arrive by 9 a.m. "Kids have a great time, it is great to see the camaraderie that kids build up," said Van De Riet. "I enjoy watching the children have fun and create great friendships that the children develop."
To learn more about the Herndon Summer Fun Camp, visit the webpage at: http://www.herndon-va.gov/Content/Parks_rec/Programs_and_classes/.