On Saturday, March 2, ArtSpace Herndon hosted an artist's reception at their location in downtown Herndon. The event was open to the public and provided an opportunity to speak with the artists whose work was on display.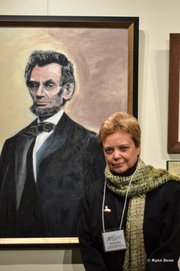 The show, featuring 13 artists, includes work by portrait artist Wendy Allen, and 12 local artists: Michele Frantz, Catherine Hillis, Jim Kirby, Carl Landow, Christine Lashley, Jeffrey Miller, Keith Naquin, Ann Adrienna Null, Catherine Powers, Thomas Segars, David Skibiak and Marie Georgette Wright.
The title of the exhibit is "Beyond the Blue and Grey: The Virginia Home Front." This exhibit focuses on the unique attributes of the Virginia "home front" during the American Civil War era, showcasing a collection of ideas of what it meant to be a Virginian between 1830 and 1880.
Professional painter Wendy Allen has been painting portraits of Abraham Lincoln for 27 years and has completed almost 200 Lincoln paintings.
"I thought that contemporary art had turned its back on history so I decided to rebel against modern art. I picked an icon whom I love, Abraham Lincoln," said Allen. "I just started painting Lincoln and I have not stopped. I paint him in all different styles and techniques. … To me it's like the American landscape, a uniquely American, fantastic subject for artwork. No matter how abstract I may paint him, people always know it's him."
Photographer Jeffery Miller said he "went to some locations in Fairfax and Herndon with the objective of imitating the look of photographs from the American Civil War time period. The photo of Sully Plantation was made to look like a daguerreotype, and the photo of Dranesville Tavern was made to look like an ambrotype."
Also present at the ArtSpace event were town officials and council members. "The exhibit is an excellent chance for us to glimpse back at that time period," said Vice Mayor Connie Hutchison. "I think the exhibit is awesome. It is a great show," said Sheila A. Olem.
Later in the evening the Herndon Towne Singers sang "Shoo Fly" and "Tenting on the Old Campground," songs traditionally sung by troops during the Civil War. Historian Charles Mauro then gave a brief history of Confederate Cavalry Battalion Commander John S. Mosby and his raid on the town of Herndon.
The exhibit will continue to be on display at the ArtSpace Herndon until Sunday, April 7.