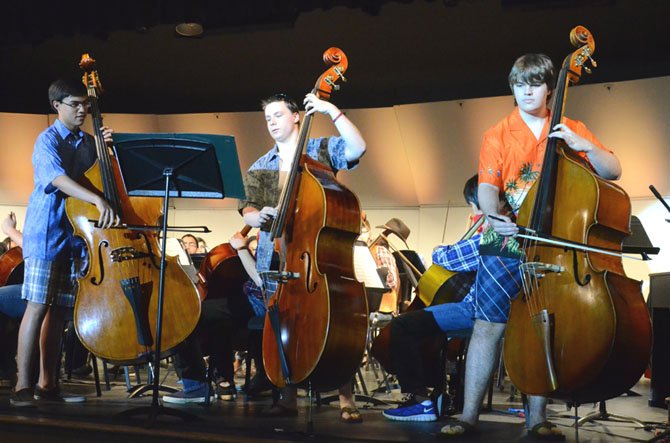 The Langley High School Orchestra presented its final concert of the school year on June 4 in the Langley HS Auditorium.
"The concert was so much fun, and a great way for classmates to get together for an evening of music." — Freshman Katherine Carris
Directed by Dr. Scott McCormick and Ms. Bo-Min Son, "Blazing Bows of the West" featured music from iconic Western movies and music with an American theme. Taking the Western theme to a new level, Matt Cooley, Alex Blankinship, and Jonathan Grow surprised everyone with their rendition of a popular Beach Boys song played on string basses. Not to be outdone, the senior class performed their senior song, receiving a standing ovation.
"It was wonderful to play Western themed music and watch the seniors receive a tribute." —Freshman Minh Pham
Cellist and singer-songwriter Camille Thornton played guitar while singing her original song, "Last Train to Nashville." Pianists Paul Li and Theron Masters were featured in Bolcom's "The Serpent's Kiss," which brought to mind the music of Scott Joplin.
"It was definitely a memorable evening of music." —Freshmen Dan Englund and David Fraley
The Symphonic Orchestra performed music from iconic Western movies: "The Good, the Bad and the Ugly" which featured guitarists Charlie Wang and Justin Nguyen, "The Alamo," and the "Magnificent Seven." The Philharmonic Orchestra played Johnny Cash's "Ghost Riders in the Sky" and John Williams' "The Cowboys." The Festive Orchestra presented Hofeldt's "Hoedown" from "The Speckled Hen" in honor of the conductor's young daughter who is raising a speckled hen, as well as music from the film "Spirit: Stallion of the Cimarron."
The Freshman Orchestra gave a stirring rendition of the famous "Hoedown" from "Rodeo" by Aaron Copland. Pianist Paul Li and harpist Alyssa Katahara were featured along with the Freshman Orchestra in Kerr's "The American Journey."
Musicians were attired in Western wear and other costumes evoking American heritage and the settling of the West. Unusual headwear included a horse head, worn by a senior violinist. The string bass trio clued the audience into the title of their song by looking like they were headed for a California beach.
The orchestra members are grateful for the support of the PTSA, parents, teachers, and sponsors who made this full orchestra concert possible.